The best thing happened to me the other week. Someone else's package from Murray's Cheese—you know, the iconic artisanal cheese and specialty foods shop that's been around since the 1940s—was accidentally delivered to my doorstep! I kid you not.
Like any good citizen, I called to report the error and see how Murray's wanted to handle the oversight. I must confess I patted myself on the back for fighting the urge to simply tear open the box to see what creamy, delectable, high-cholesterol products were inside. To my delight, the customer service team said they had already sent a new shipment to the correct address and I was welcome to enjoy the free gift!
I couldn't believe my luck. My recently vaccinated coworkers were on their way over, and suddenly I had the perfect excuse to don my hostess hat—using vintage china, of course.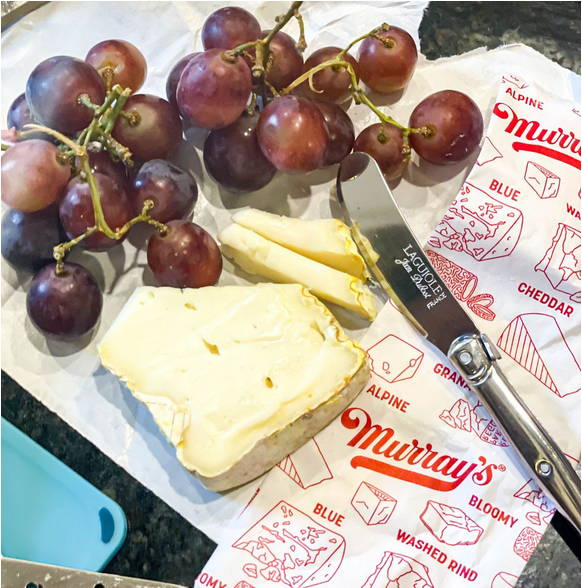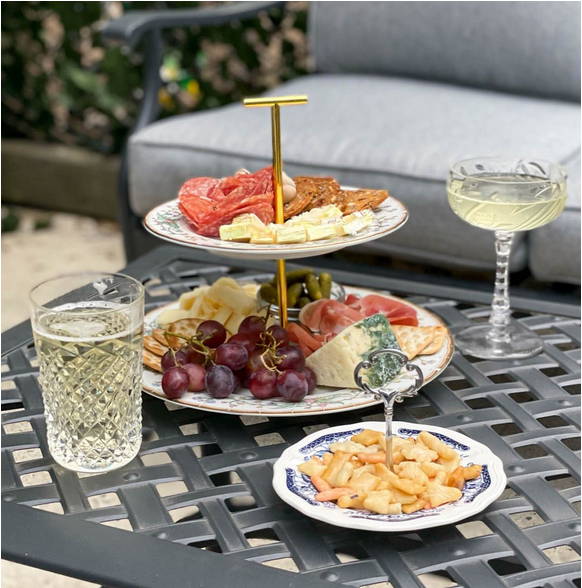 Sweet dreams are made of cheese….who am I to dis a brie?
---
The intended recipient of the Murray's order had been gifted several cheeses along with assorted cheese board accoutrements that we happily devoured, including cornichons, shortbread cookies, honey and jam—I'm telling you, we really made out! The clear favorite was the Casatica di Bufala because it was super rich and creamy, but I won't rub my good fortune in your face any further…I'll save it for another blog post.
As for the china, since I've had birds on the brain lately what with our new teacup bird feeders, I decided to stick to the theme and use the Birds of Paradise pattern 3-Tier crafted from Limoges china. The colors are vibrant bright, which complemented the colorful spread.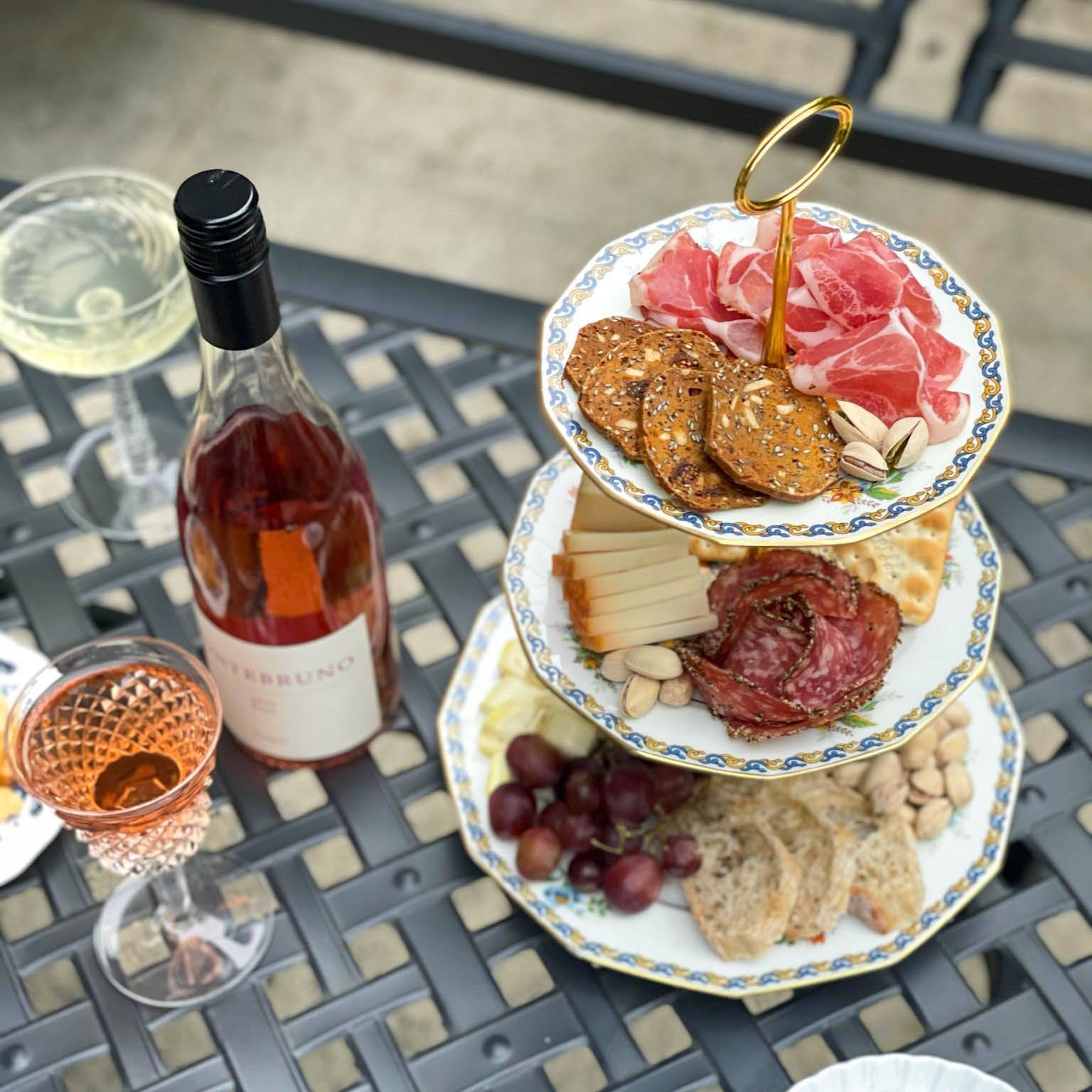 I'm not a fancy person but I do own a lot of china and crystal. You know how The Brooklyn Teacup's tagline is to "put the good china to good use?" Well, I feel similarly about the nice glassware. If you have it, use it and enjoy it…you only live once (last I heard).
---
You can't have cheese without crackers and other snacks! As our good friends at Two Hosts Event Planning & Design discuss on our blog, having a mix of different textures and flavors adds visual interest and a palate-pleasing touch to your cheese and charcuterie plate. Since my backyard shindig was pretty impromptu, we mostly took advantage of what came in the Murray's box and what my guests brought with them.
And we didn't suffer. Our charcuterie plate included salami, prosciutto, cornichons, pistachios, baguette, and fig and olive crackers, along with some sesame rice crackers and dark chocolate nonpareils that a friend brought over from her nuts.com subscription box. I added some wine and grapes to the mix and it was pretty much my favorite meal ever.
I impressed myself by successfully creating salami roses, a trick I learned from Marissa Mullen of That Cheese Plate. It's so easy and maybe the best thing to happen to cheese plates since….pre-sliced cheese?! Anyway, it's so easy and totally takes your cheese plate game up a level.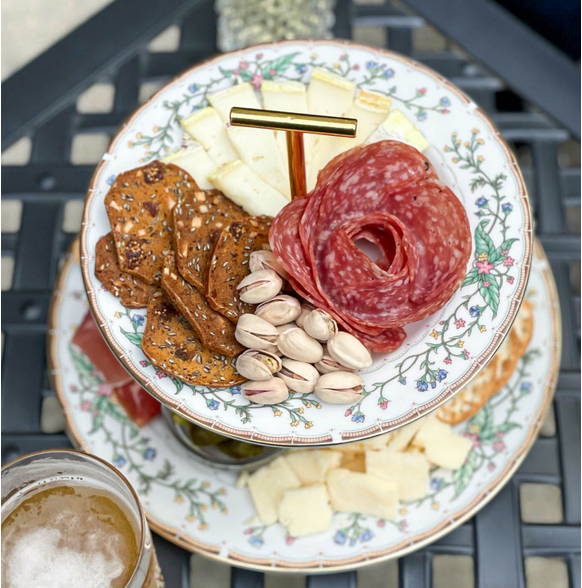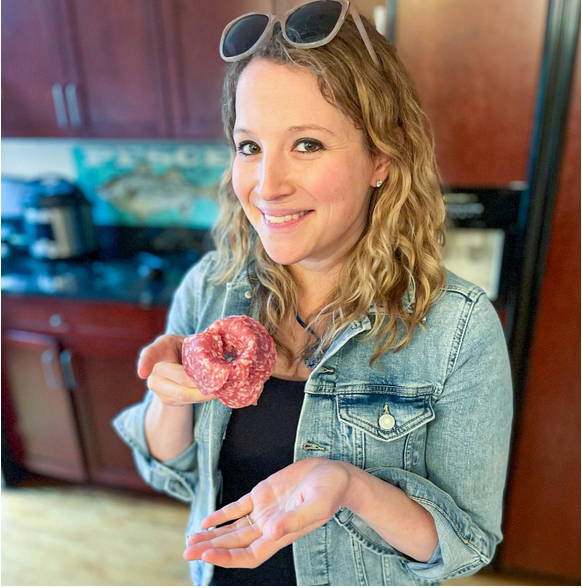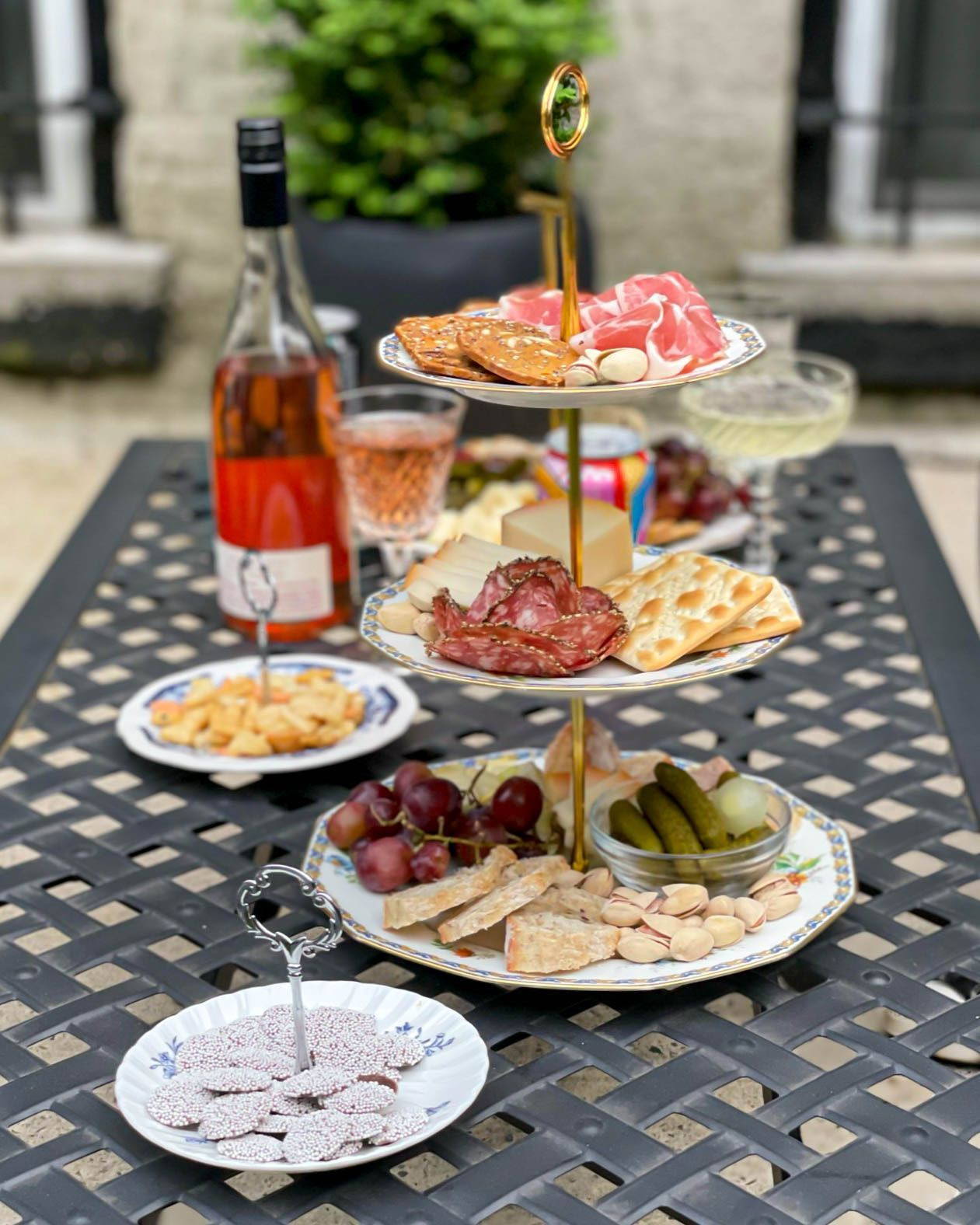 ---
In case you missed it, The Brooklyn Teacup is always looking to expand our circle of friends! If you have people in hour life that would love out upcycling mission, products, and services, please tell them about us!
And, we want to reward you when you do. (Spoiler alert: not with a package of Murray's cheese, but really awesome in a different way!):
When you refer a friend you'll receive one of our *New* Signature Blue & White pendant necklaces. So tell everyone—and their mother!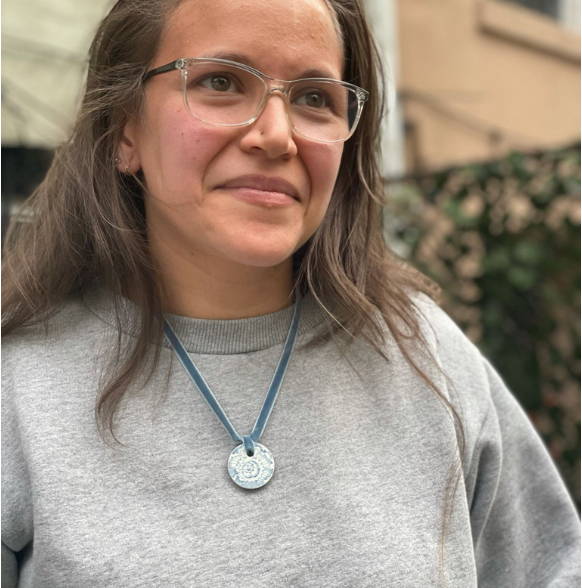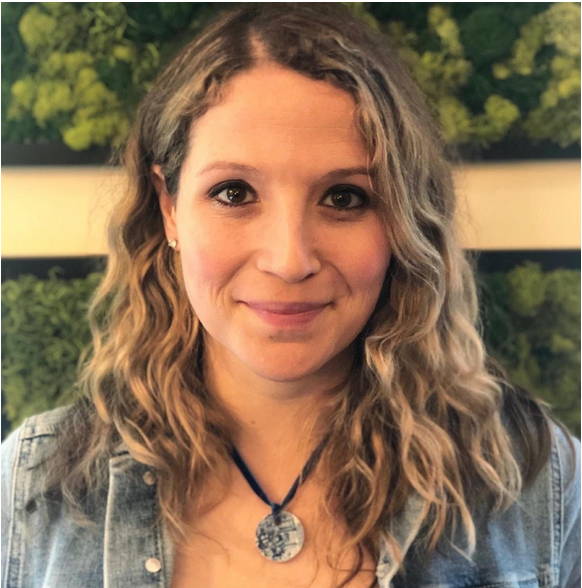 HOW TO SNAG YOUR COMPLIMENTARY PENDANT NECKLACE
1. Make your first purchase from BTC (if you haven't already!)⁠
2. Refer a friend or family member (or 2, or 3...you get the idea)⁠
3. Your friend makes any purchase on our website⁠. At checkout, they put YOUR NAME in the NOTES⁠.
We'll ship your pendant to the address we have on file from your previous order⁠.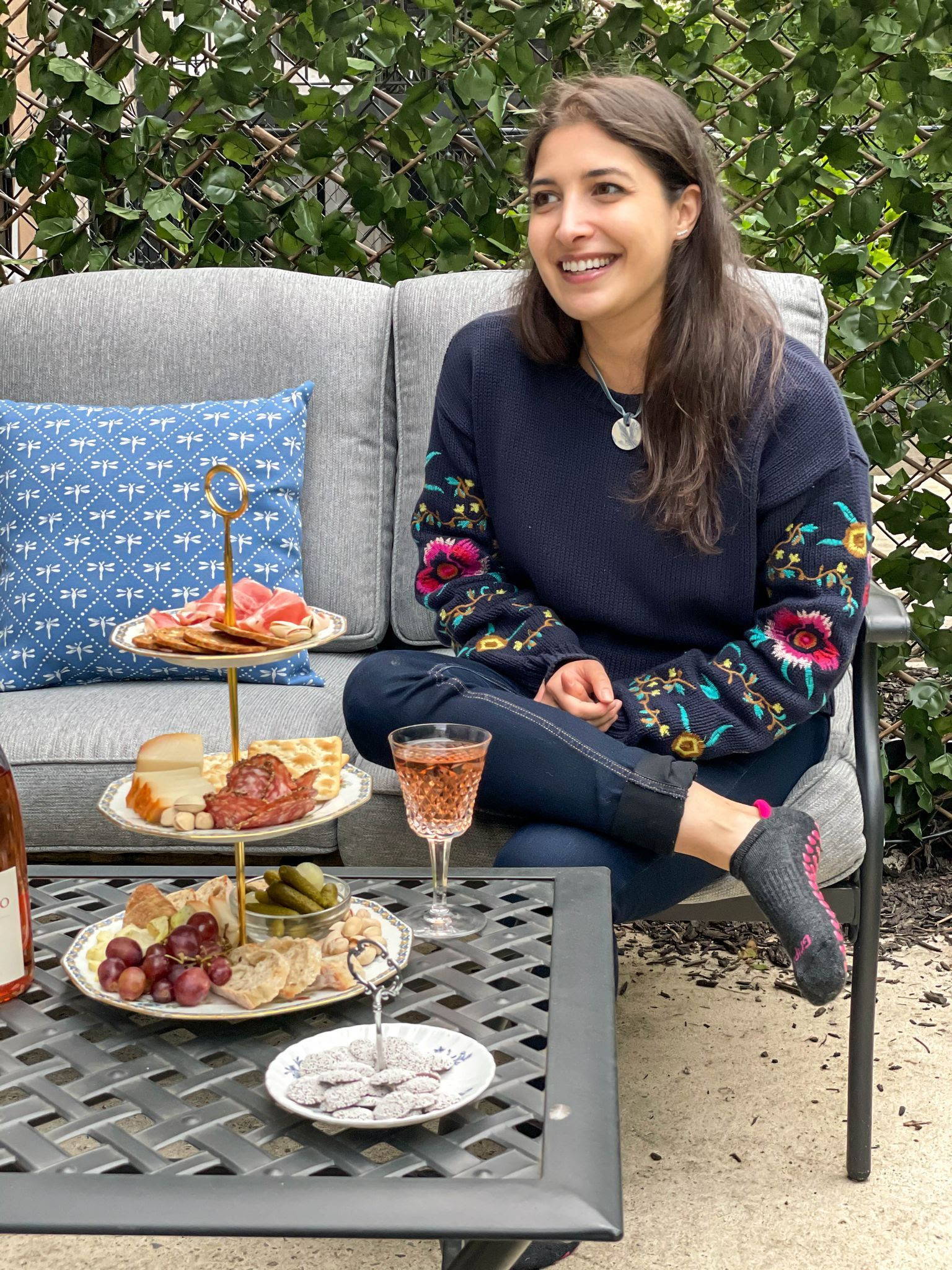 If you just want a pendant necklace (no strings attached), we support that too.
They're officially available for purchase on the website.
---
Wishing you a really Gouda week ahead. Actually, I hope it's GRATE. Ok, I'm done with the CHEESY puns, promise.