People often ask me what semi low-maintenance crafts projects they can do with fine china that they no longer have use for or inherited and don't want to just give away. Well, I created a Pinterest board just for that purpose and list a few of my favorites ideas below. All make beautiful, whimsical and functional gifts or decor that would enhance any afternoon tea party or themed celebration.
Here's a sneak preview of a few of my favorite low effort DIY ideas:
Teacup & Saucer Candle
I love this as a gift idea...Plus, it's not nearly as messy as you'd think it would be. I would put this decorative teacup candle on a bedroom dresser or in the bathroom. Here's a link to a quick and simple DIY teacup candle tutorial I found on YouTube. Would love to hear how it goes for you!
Whimsical Event Signs
For this sign I created to convey the bride and groom's wedding hashtag, I converted gold-rimmed plates (that were just a little too scratched to turn into tiered Brooklyn Teacup stands) into event "signage" using adhesive chalkboard paper.
I simply measured the center of the plate using a protractor, traced the correct size circle onto the adhesive chalkboard paper, cut out the circle and stuck it on the plate. I've heard that chalkboard paint works well for this too. Anyway, this project was super easy to do and is perfect for adding signage to any tea party-themed event.
Teacup Succulents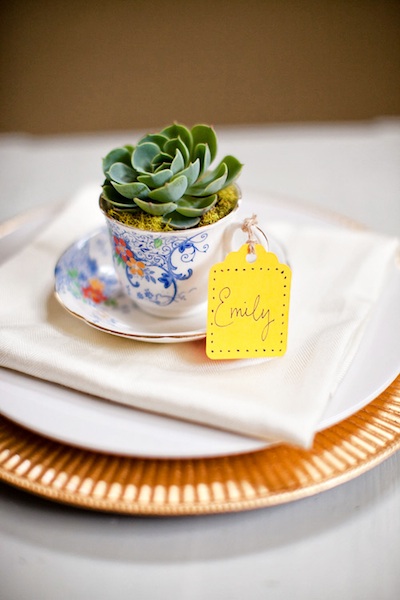 Ok, how adorable is this mini succulent in this floral teacup and saucer? Also, it can do double duty as both a helpful place card that lets guests know where to be seated and a party favor. No glue, no scissors. No sweat. 
Whimsical teacup bird feeders:
I love this idea. If I had a backyard in Brooklyn, I would totally try this one as it really does look easy to put together. This post from Intimate Weddings, titled "Homemade Bird Feeder from Vintage Teacups Tutorial," uses copper plumbing pipe (that you can find from the hardware store) in lieu of the wooden stakes pictured above. Follow the link for step-by-step instructions. 
Photocredit: Rockies Craft Blog
Magnets
It can be upsetting when beautiful and sentimental dishes break, especially when they've been in the family for generations. Well, you don't need to say goodbye forever. You can absolutely repurpose those decorative fragments into beautiful and festive-looking magnets that you can keep on your refrigerator or any other magnetic surface year-around.This is one of the best and easiest crafts you can do with fine china. 
 Photocredit  to: http://nur-noch.com/fragments-for-the-fridge
Visit my Pinterest board for more ideas!