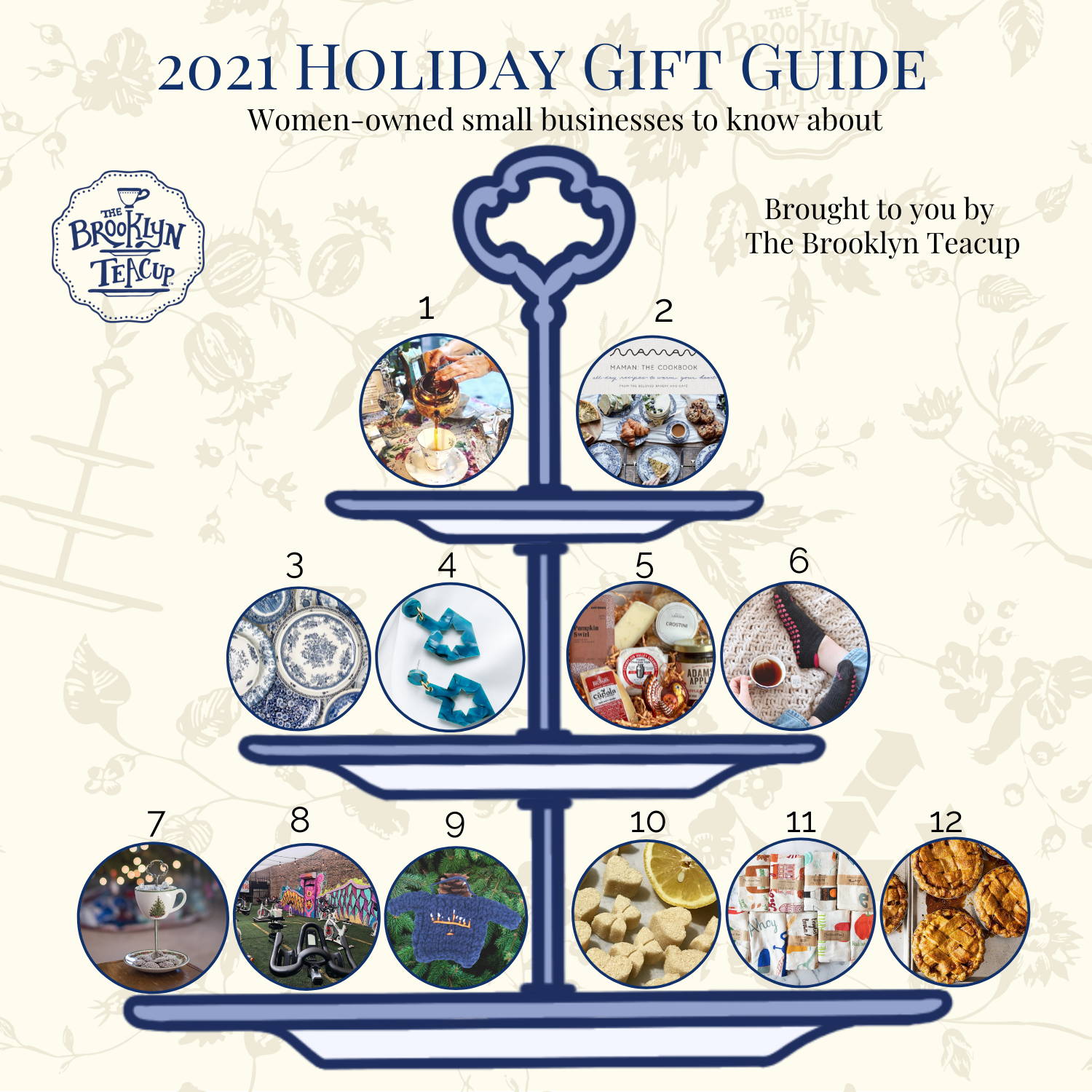 Hi there! I'm so glad you're here and interested in what I think are some of Brooklyn's best local businesses...all of which happen to be owned by women. (Coincidence? I think not!)
This isn't like most gift guides you'll encounter—I'm not going to presume to know who you're shopping for, what your budget is, or tell you what your loved ones really want for the holidays. I'm just taking this opportunity to gush about some of my favorite female founded/women-owned businesses and give you a taste of the products and services they have to offer. This is the first guide I've ever put together and I must admit it was challenging...mostly because there are so many I love and appreciate so it was hard to choose! I guess that means you can expect more gift guides from me in the future!
Wherever you are, I hope you consider supporting your local businesses this holiday season too. After all, they're what give our cities character and make our neighborhoods feel like home.
Happy shopping, happy giving &
Have a happy holiday season!
All opinions expressed below are my own. No compensation was received for features in this gift guide. Photography belongs to the businesses recognized unless otherwise noted.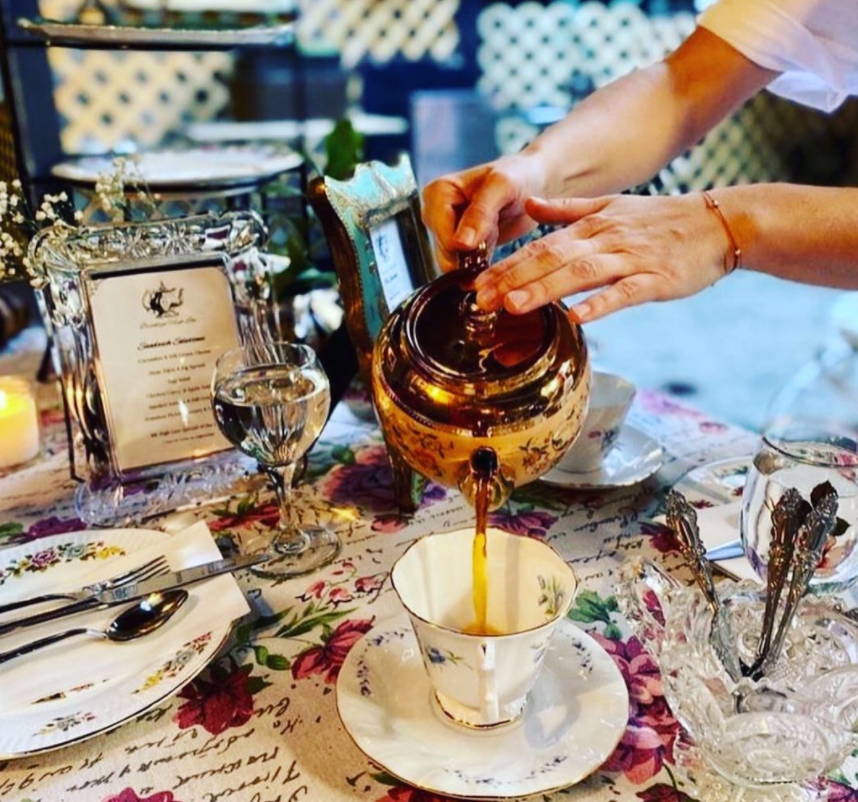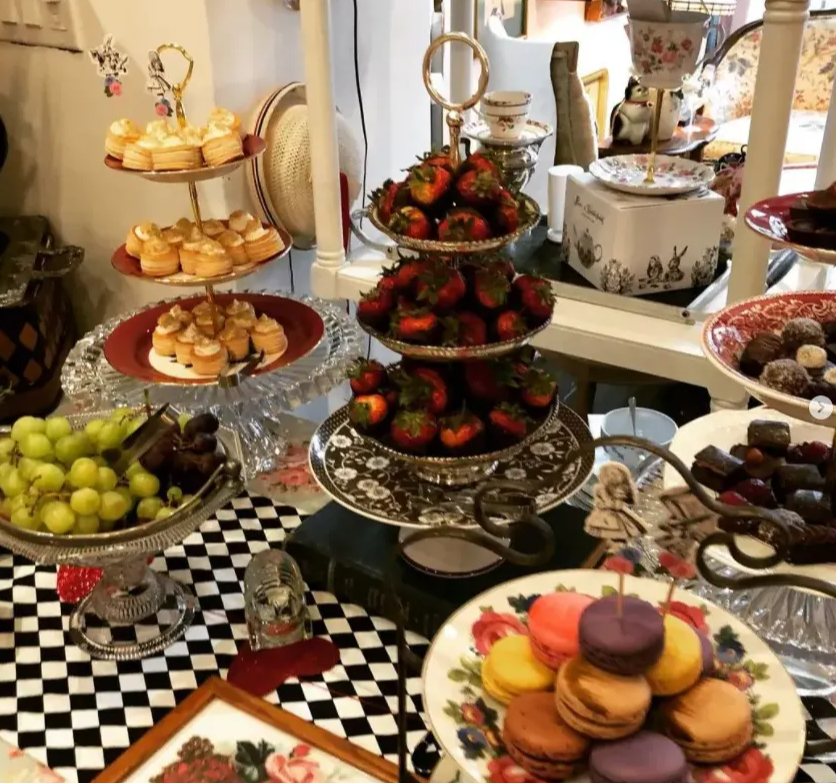 1. Afternoon Tea Experience, Brooklyn High Low, $48+/pp
Treat yourself and a friend to extra self-care with a visit to Brooklyn High Low—a quaint tea salon located on Vanderbilt Ave, everyone's favorite street in Prospect Heights . The sitting room in owner Honey Moon's #cottagecore wonderland is an experience for the senses, from the plush and cozy seating and mismatched vintage china, to the aroma of freshly baked scones emanating from the kitchen. Chat and sip the time away with bottomless pots of your favorite brews and inventive takes on classic afternoon tea fare. Tea service is only offered on weekends, so book ahead! @brooklyhighlow
---
2. maman: the cookbook, maman, $30
This cookbook is so lovely it could also be a coffee table book. It not only reveals the recipes behind the beloved French cafe and bakery maman, but also includes tips on everything from prep to table décor from brilliant founder, Elisa Marshall. Stop by one of maman's growing collection of cafes in Brooklyn to grab the book with coffee and pastry on the side (or my favorite, their lavender hot chocolate!) @_mamannyc_
And if you start lusting over those mismatched vintage blue and white place settings and serving pieces—as I did when I first walked into the Soho maman in 2018—well, you know where to find me! Or, see #3. 😉
---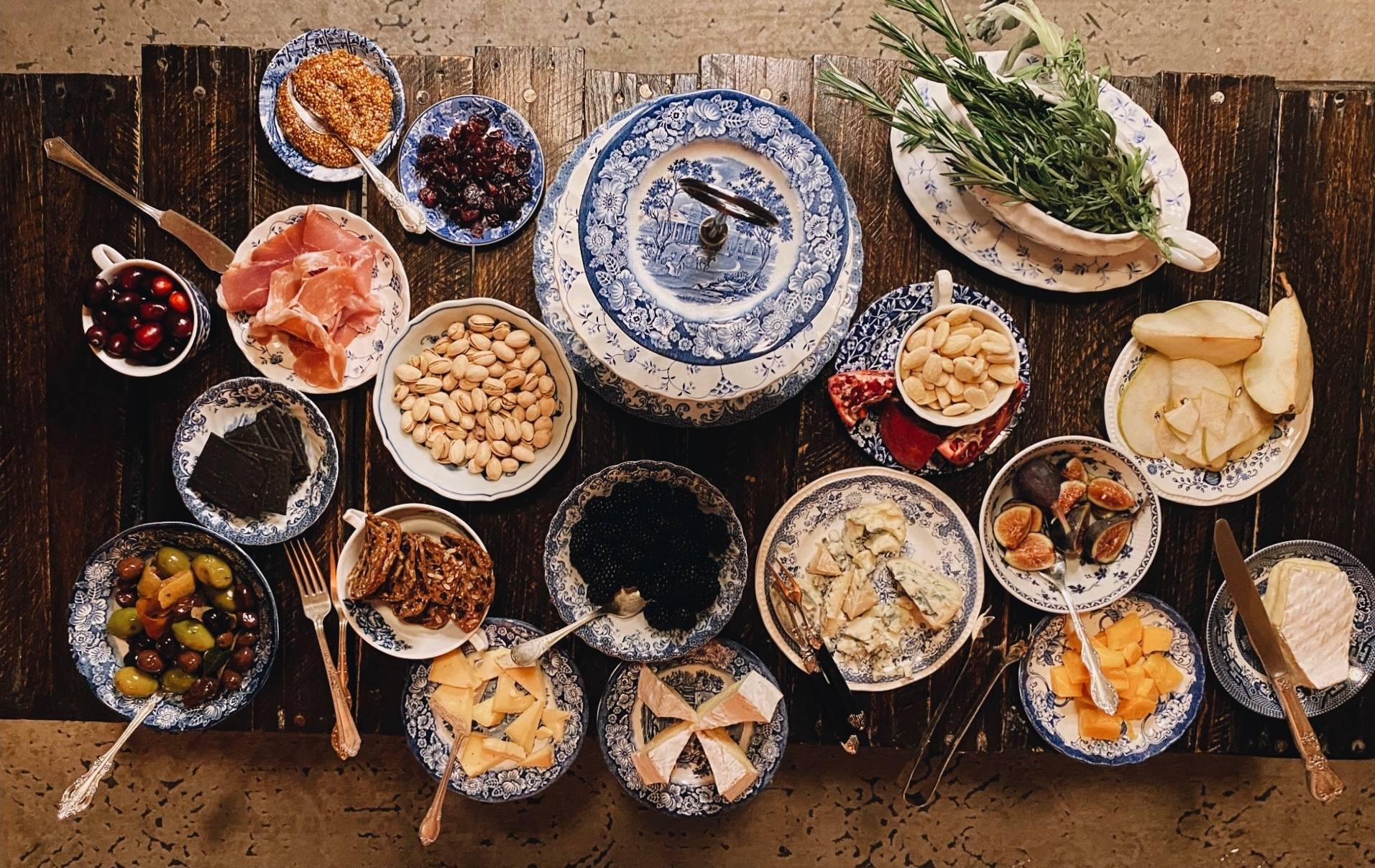 3. Vintage Blue & White Dishware & Serving Pieces, The Brooklyn Teacup, $59+
Ok so I must admit to being slightly biased, but these tiered stands, crafted from vintage blue and white dishware, make incredible gifts. Each serving piece is one-of-a-kind are versatile for serving everything from cupcakes to charcuterie. And, get this, they can be disassembled and put away flat when your guests leave! For an extra special gift, add a set of bowls, teacups or even a teapot and create your own rustic chic tea set. @thebrooklynteacup. Photography from Two Hosts Event Planning & Design  @twohosts.
Psst!

An early holiday gift from The Brooklyn Teacup
Take 15% off your entire order

with code:

BKHOLIDAYGG
Valid NOW - 11/25
---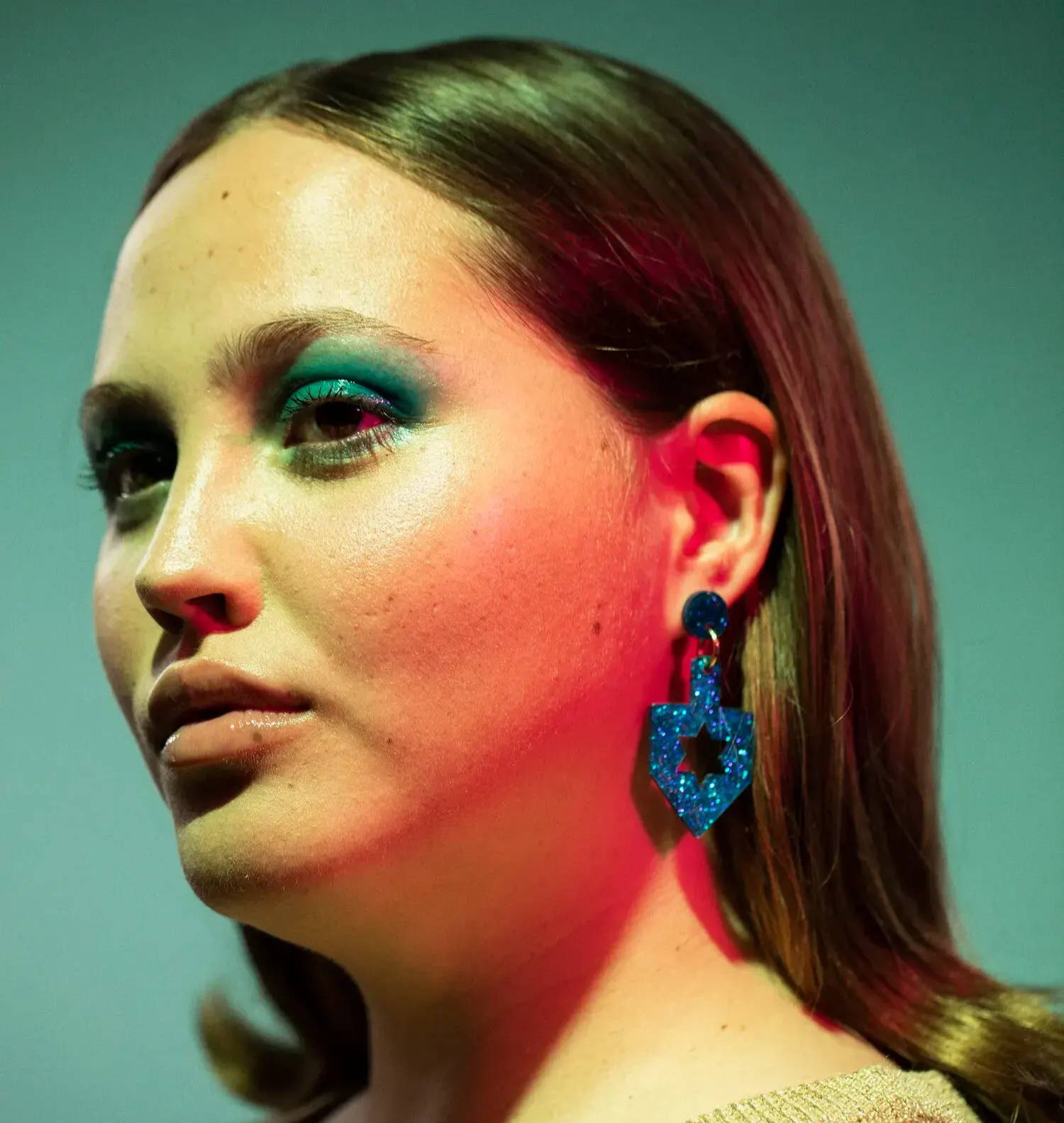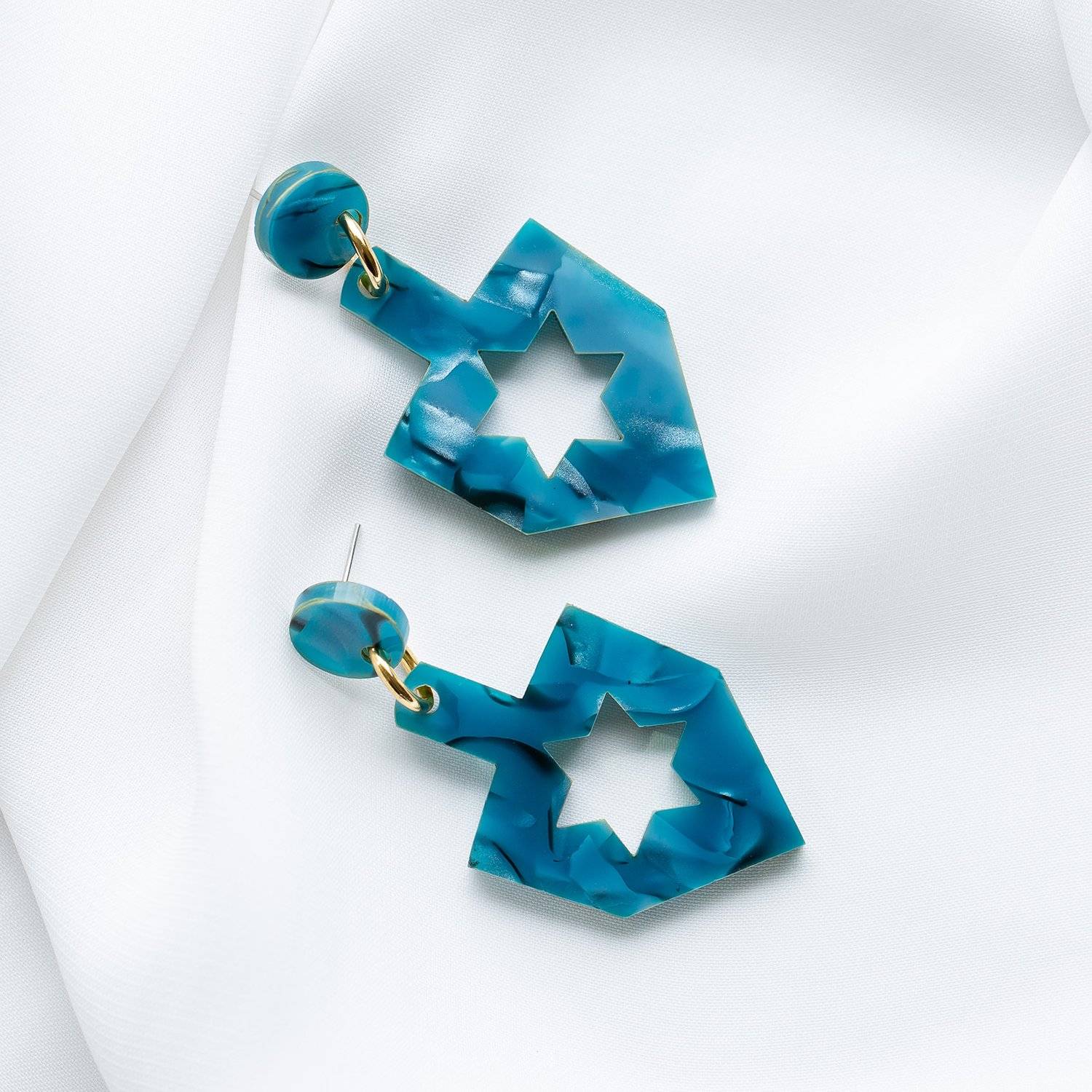 4. Orit Dreidel Earrings, Ariel Tidhar, $65
Make all eight nights a little extra glam and "gelt" ready for the compliments with these festive earrings made from high quality acrylic! While you're on the website, check out designer Ariel Tidhar's impressive collection of small-batch modern Judaica pieces, home décor, and accessories. @arieltidhar
---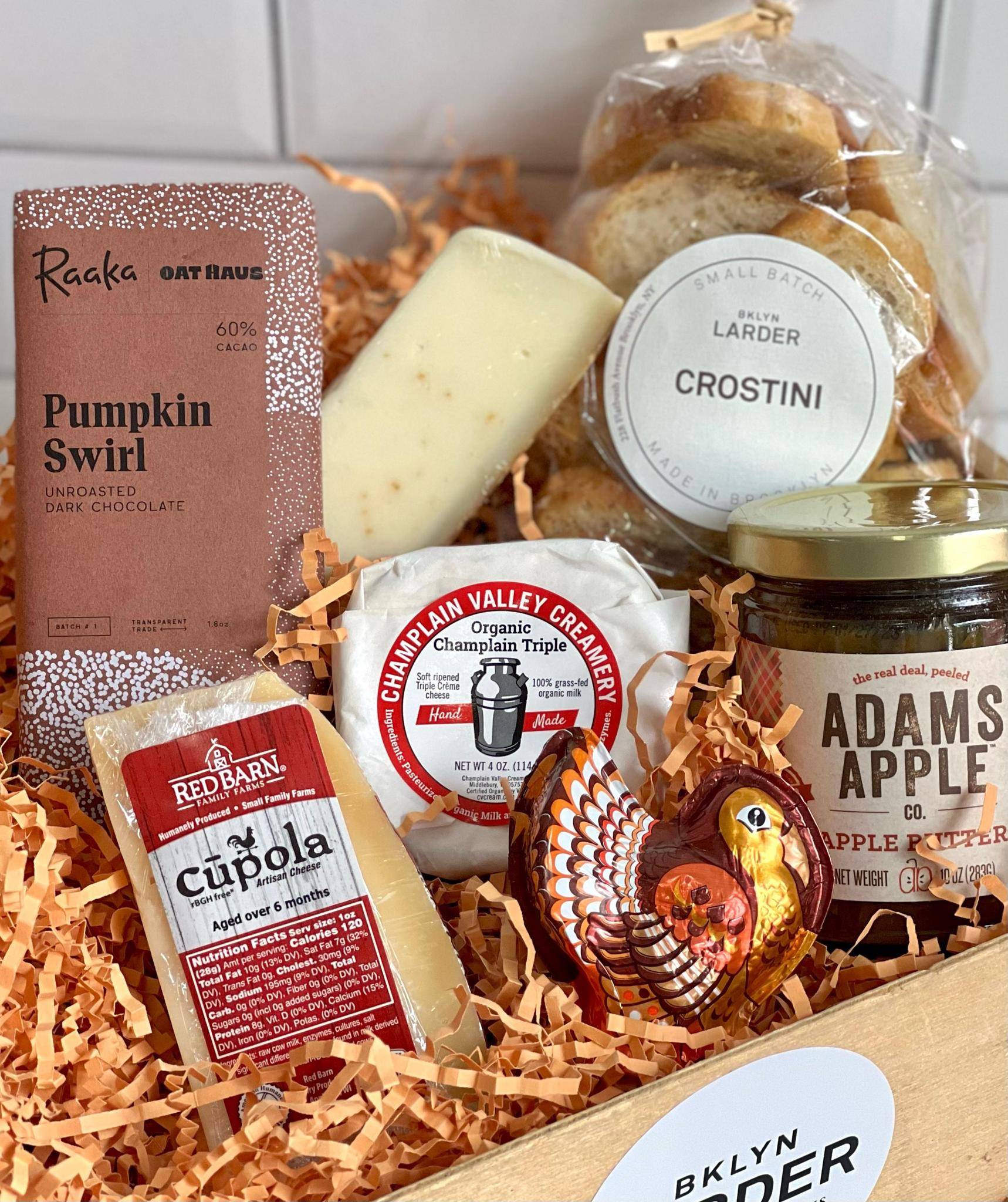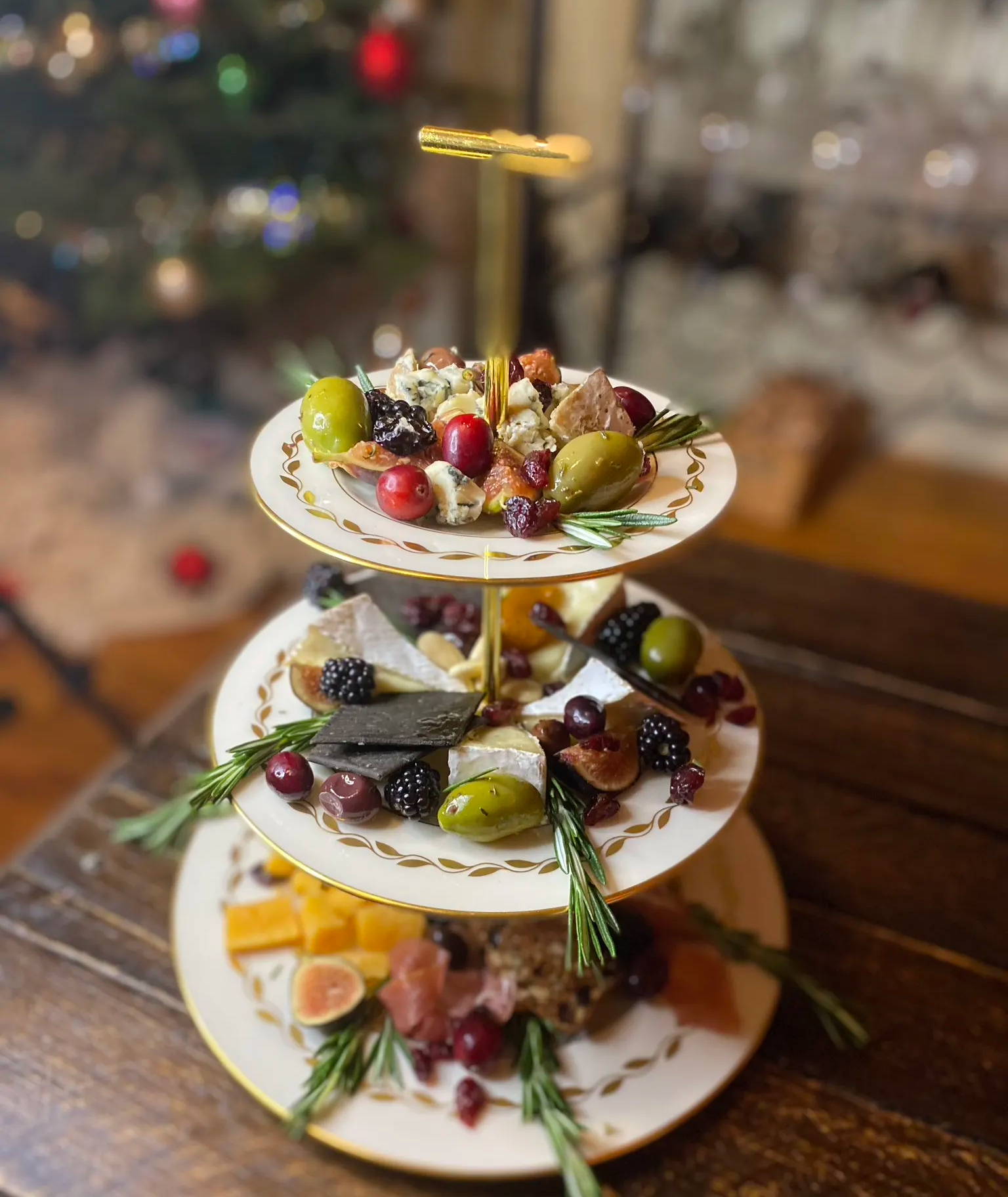 5. Cheese & Charcuterie Gift Basket: Bklyn Larder Cheese & Provisions, $45+
Bklyn Larder Cheese & Provisions brings artisanal and ethically made foods to Brooklyn and is the ultimate neighborhood gem. Every time I stop in, I discover something tasty, new and exciting—from homemade prepared foods and hard-to-find grocery items to top-notch meats and cheeses, of course. If you can't make it in, they'll ship to you! @bklynlarder.
---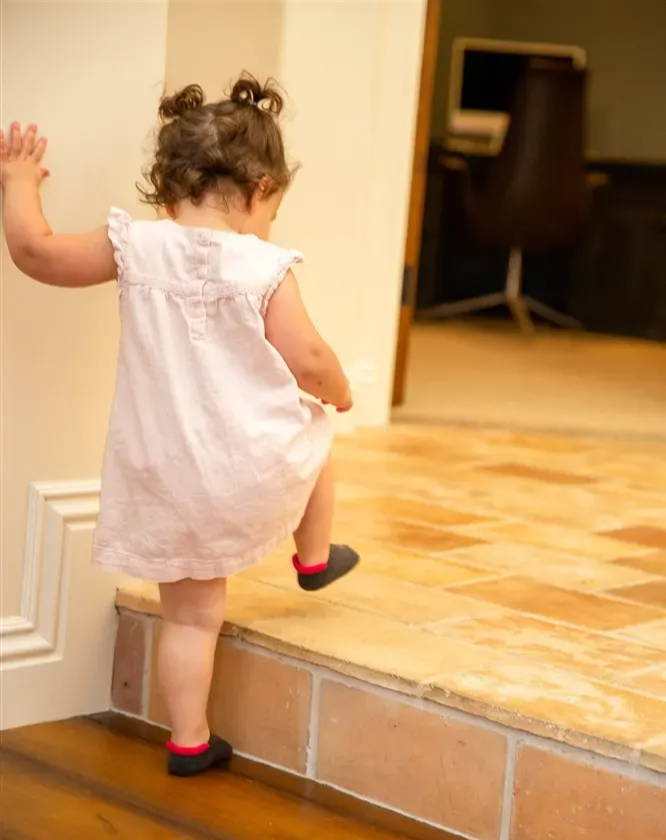 6. Heart + Sole Grip Socks, GripCity Socks, 2 pairs/$30
Give a little bit of heart + sole to your loved ones this season. Developed and designed by yours truly (yep, you read that right!) to support you during tough workouts and tough times. They're like cozy hugs for your feet and no-nonsense performance wear when it comes to non-slip traction. Find out why these grip socks are the best on the market and learn more about GripCity's mental health mission. Available in adult sizes S, M, & L and baby size (12-24 months). @gripcitysocks. Photography by @michelledufflocq and @ilene_squires_photo.
---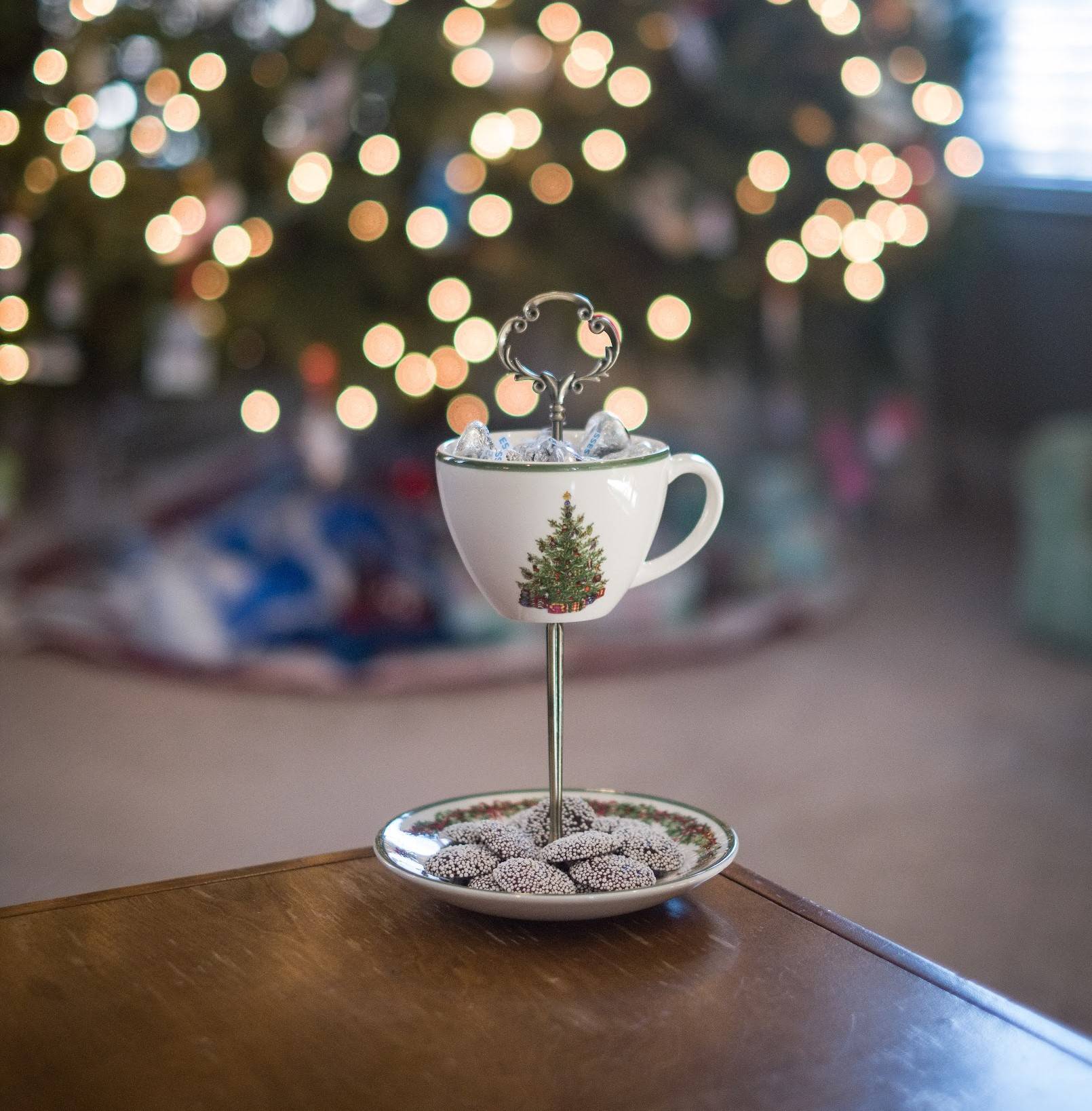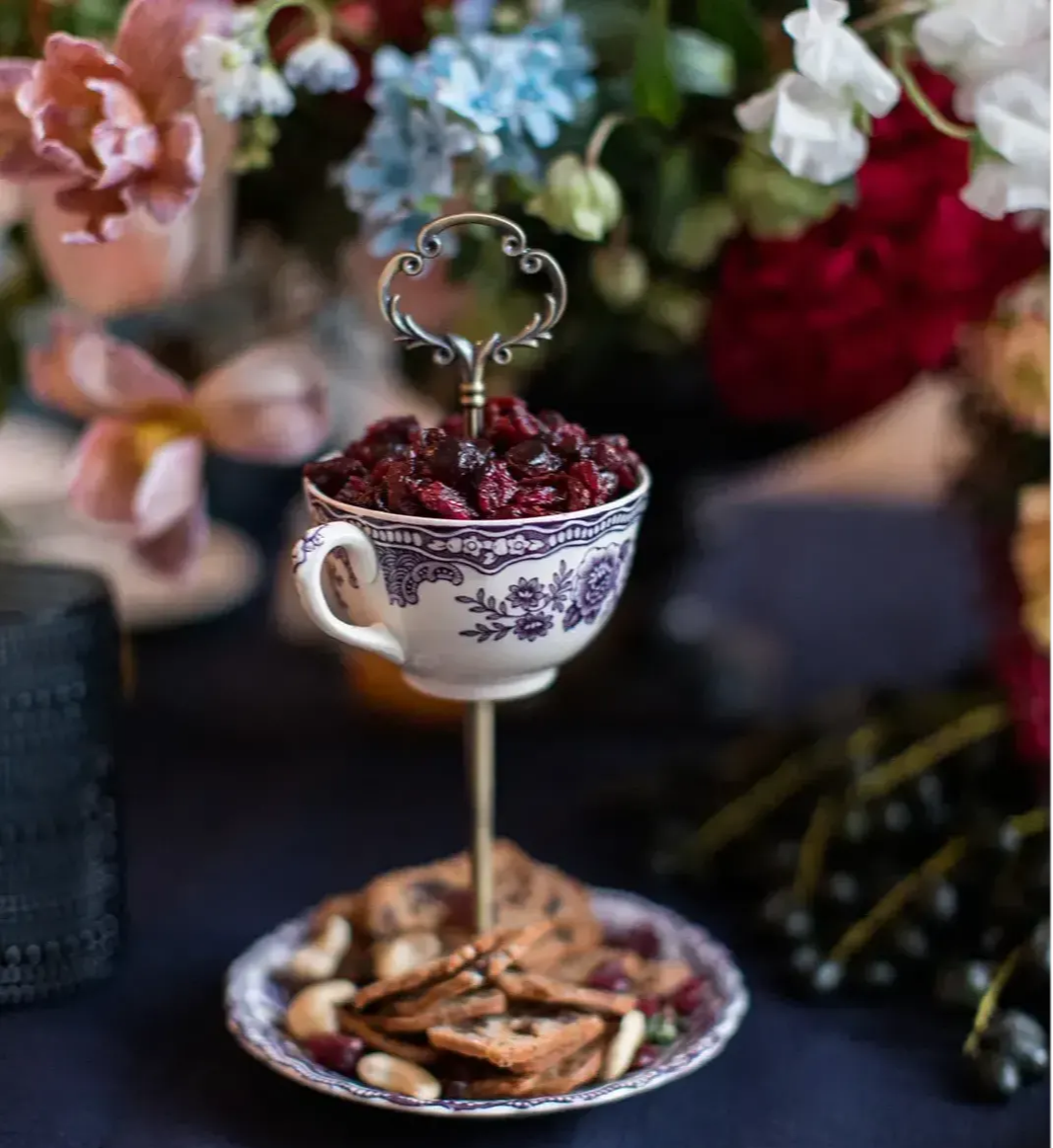 7. Teacup & Saucer Stand, The Brooklyn Teacup, $59+
Upcycled from vintage china, these surprisingly versatile teacup and saucer stands could add a dose of charm and whimsy to even the Grinch's holiday decor.  I love using them for serving desserts and bite sized treats; my sister likes using them to hold her jewelry and the accessories she takes off before bed. It's hard to go wrong with this unique gift. @thebrooklynteacup. Photography by my handsome hubby/Chief Unpaid Intern (left) and the wonderfully talented Leatal Cohen of @picandpetal (right).
Psst!

An early holiday gift from The Brooklyn Teacup
Take 15% off your entire order

with code:

BKHOLIDAYGG
Valid NOW - 11/25
---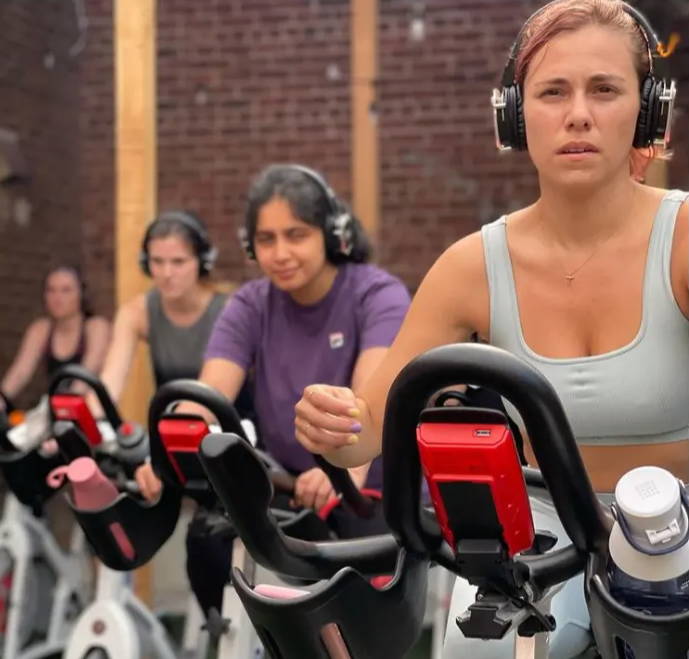 8. Cycling Class Pack, BYKlyn Yard, $40+
Created during the pandemic to keep New Yorkers active while staying safe, BYKlyn Yard is NYC's first entirely outdoor cycling studio. I first discovered the studio using Classpass and was blown away by the instructors and vibe. If you like spinning and you're not phased by winter weather workouts—and trust me, you're not going to feel cold after 5 minutes —buy classes and support this awesome and resilient local business. @byklyncycle
---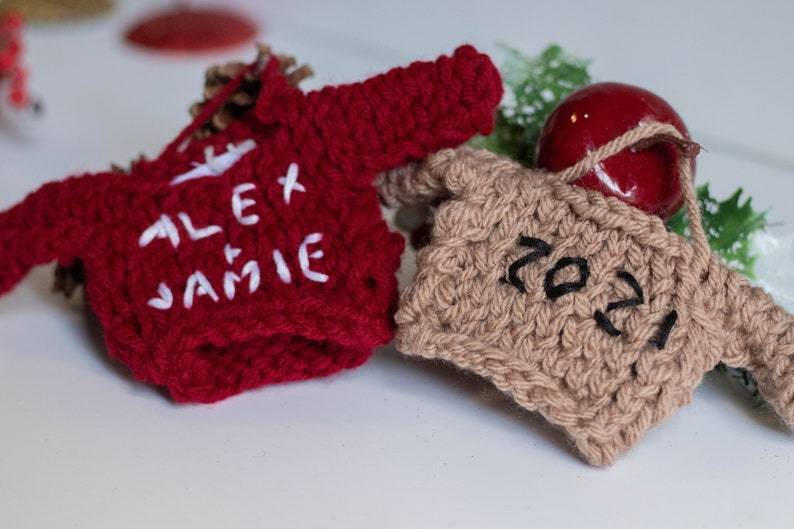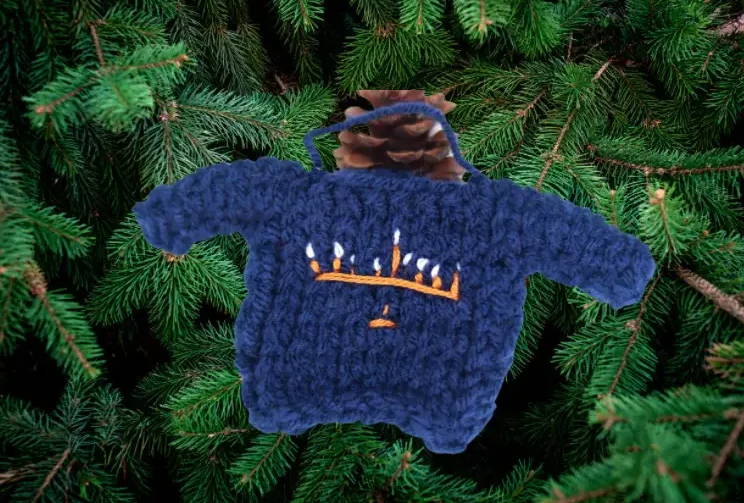 9. Holiday Knit Sweater Ornament, Slope Girl Knits, $25
I saw Slope Girl Knits founder Emily Louick whip together an absurdly adorable, teeny tiny hand-knit menorah sweater at a craft show a few years back and was mesmerized. I had to get one then and there! Make your ornament even more personalized by having Emily stitch your gift recipient's name(s) or a date on the front or back. @slopegirlknits
---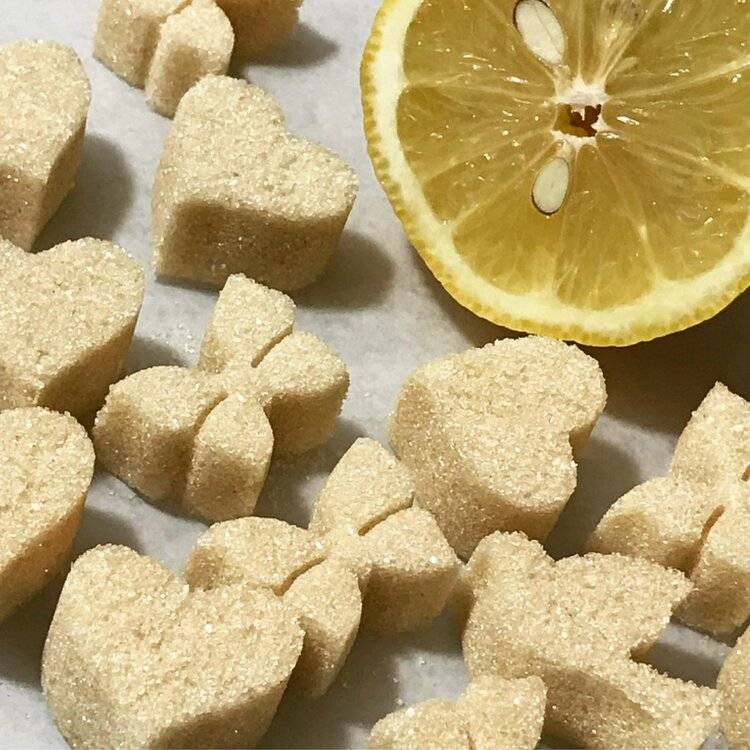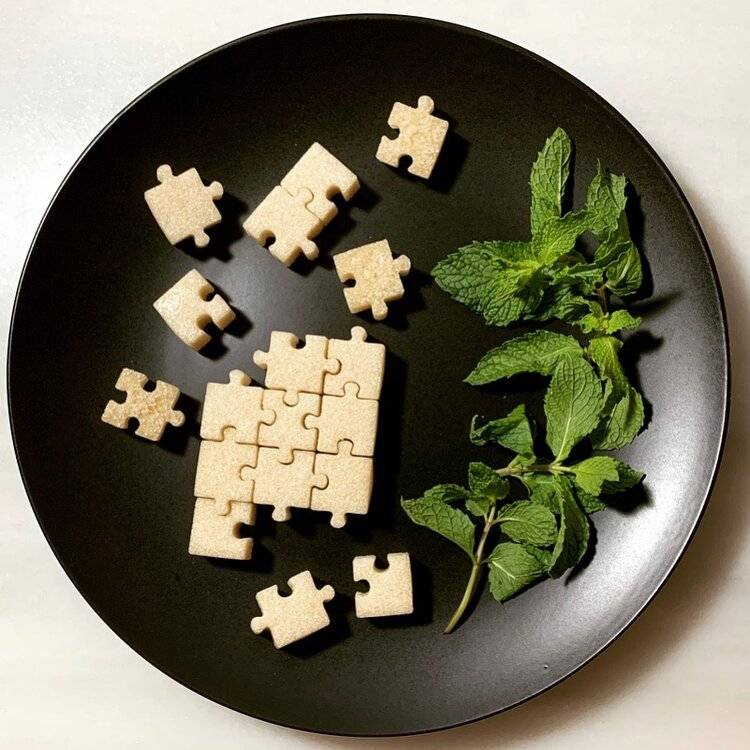 10. Specialty Sugar Cubes, Teatime Organic, $15+
Make the holidays extra sweet with specialty sugar cubes handcrafted by confectionary queen Stella Carter in the shapes of bears, hearts, butterflies, puzzle pieces and more. Have you ever seen something so cute? Me neither. These adorable organic cubes come in a variety of all-natural colors and flavors. They make terrific stocking stuffers or add-ons for just about any tea or coffee-themed gift. Be sure to add an extra pack for yourself too! @teatimeorganicnyc
---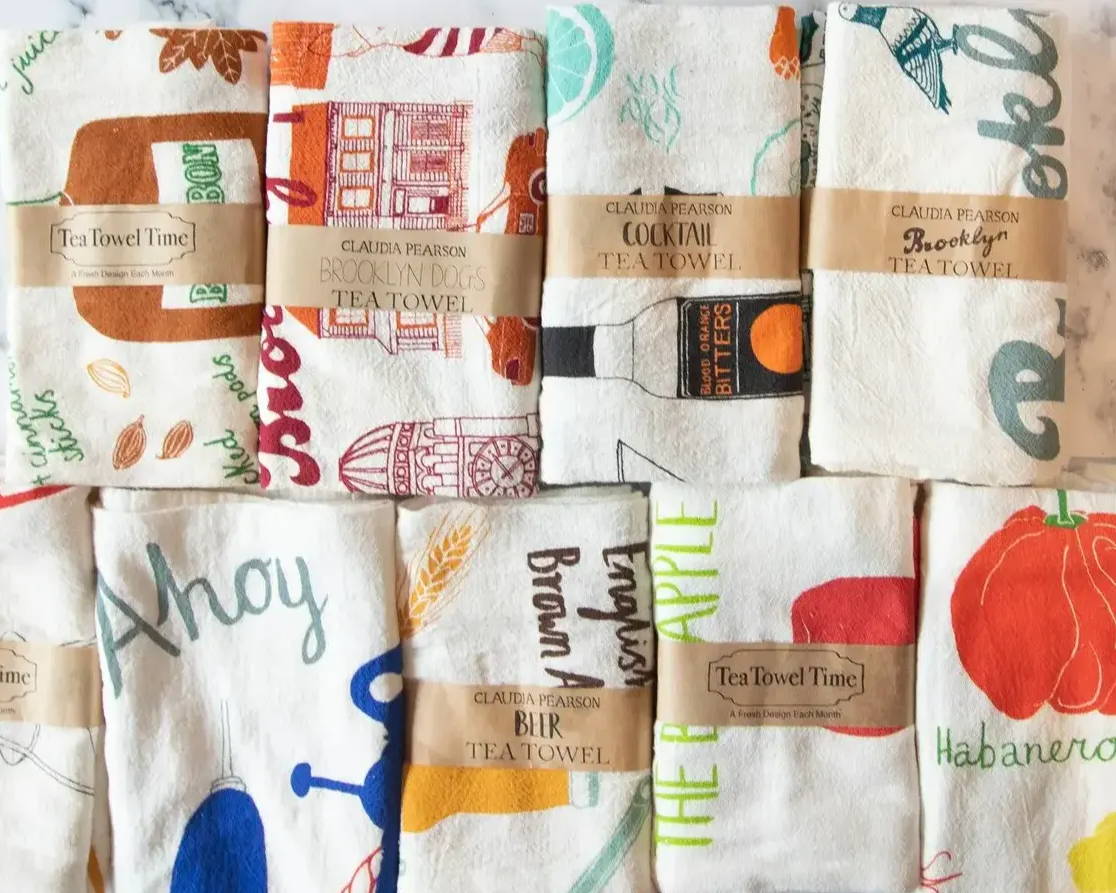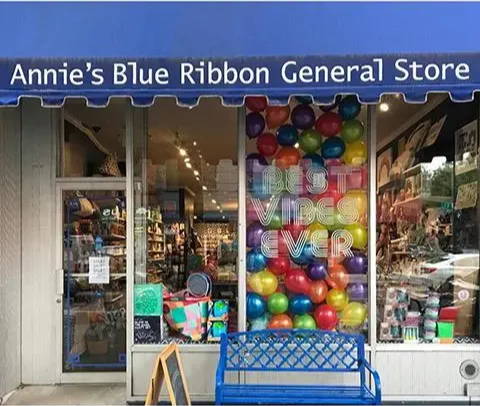 11.Brooklyn Brownstone Tea Towels, Annie's Blue Ribbon General Store, $20
No matter the occasion, Annie's Blue Ribbon General Store has just the thing- or 10 things! I can count on this gift shop to carry a wide selection of goods from local artisans and craftspeople, too—like these brownstone graphic tea towels from Brooklyn artist Claudia Pearson. Don't forget to pick up a witty, quirky, or just plain thoughtful card from their always-stellar selection before you go. @anniesblueribbongeneralstore
---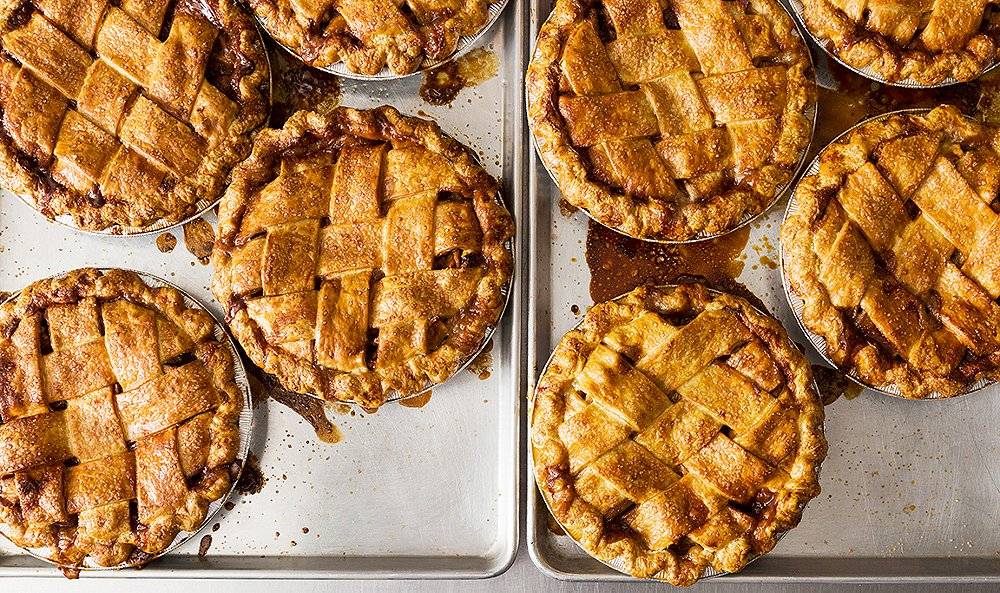 12. Salted Caramel Apple Pie, Four & Twenty Blackbirds, $44
I have never tasted better apple pie than the one from Four & Twenty Blackbirds, so this one had to make it onto my gift guide. Founded by sisters and pie makers Melissa Elsen and Emily Elsen in 2009, this neighborhood pie shop serves up handmade slices using seasonal and fresh ingredients sourced from local orchards. Pick up any one of their sensational pies before your next gathering—you can thank me later. 😉 @birdsblack
---
Thank you for checking out a few of my favorite local, women-owned brands and businesses.
If you visit or patronize any of these spots because of this blog post, I'd love to hear what you think. Drop a comment below or tag us @thebrooklynteacup in your post or story.