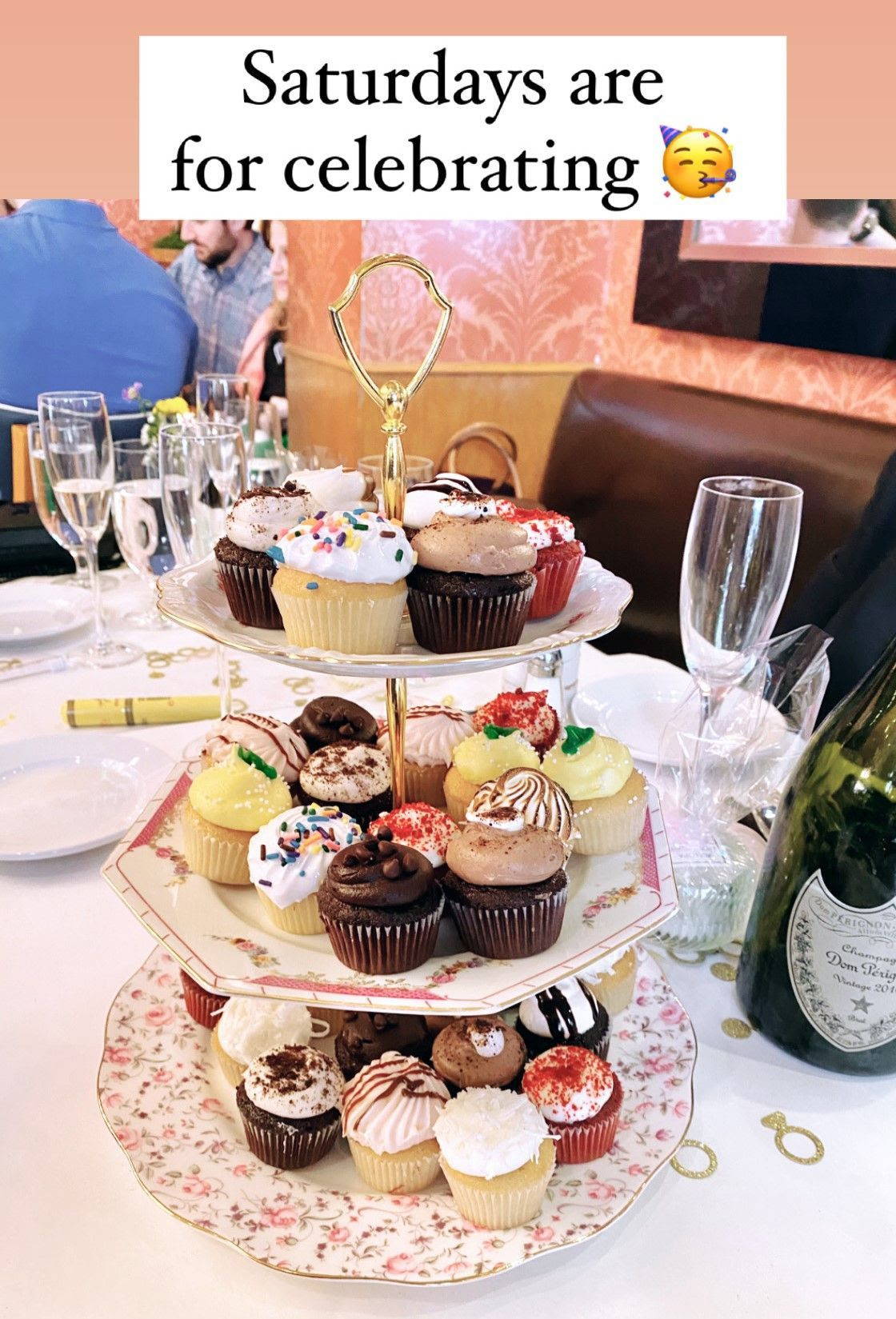 It's Tuesday and I'm still floating from the weekend's festivities. My sister got engaged to this guy we really like and the whole family was able to celebrate together. That plus the gorgeous Spring weather made it feel like good things are circulating in the air (for a change)!
Continuing on with our mini-series on upcycling your less-than-perfect vintage china, this blog post is all about teacup planters and flower pots!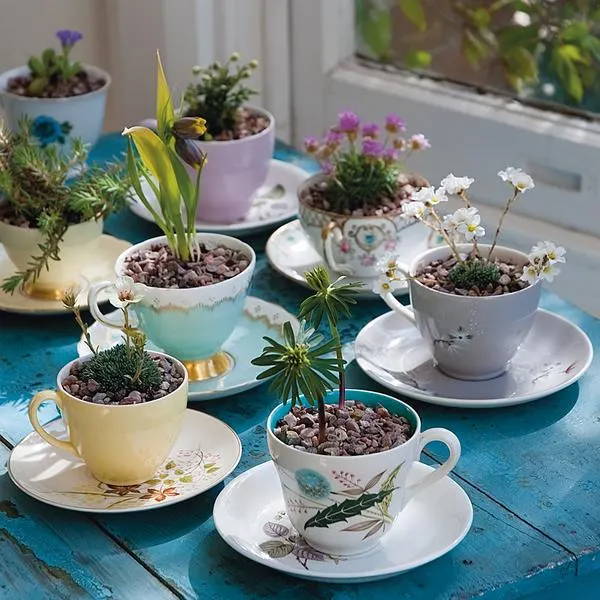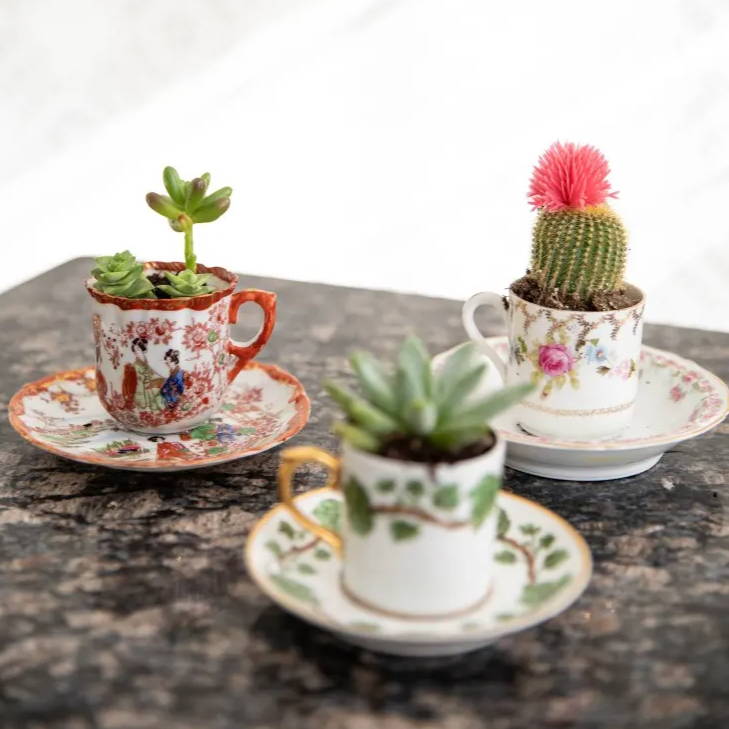 I may be biased but I think most things look better when presented in a teacup. But really, teacup flower pots and planters are among my favorite teacup applications. There's something so whimsical and delightful about growing plants out of dainty vintage cups and intermingling old decor and new life in unexpected ways.
Like with the teacup bird feeders, a great thing about teacup planters is that they are very forgiving of minor imperfections. Say the inside of your teacup is stained, or there's a chip on the rim of the cup that makes it no longer safe to sip; Turning the cup into into a flower pot is a perfect upcycle solution. Besides, the dirt won't be offended and no one has to know.
Creating the planter itself is as straightforward as it gets. Just drill a small hole or two (depending on the size of your cup) through the bottom of the cup to allow water to drain, and you're pretty much good to go. The saucer below it will catch the water (so don't forget to put that underneath your cup before placing it on your table or window sill)! From there, you can add some potting mix and seeds and wait for the magic to happen. Alternately, you can transfer an existing potted plan from its pot and decorate the top with pebbles, gravel or small rocks, and ta-da: sweetest little planter you ever did see. Create a few and you'll have yourself a teacup garden!
A note on drilling: The bottoms of teacups tend to be thin and are therefore pretty easy to drill through using just a hand drill and diamond drill bit. If you'd rather not play with power tools, I'd be happy to drill your cups for you as part of your upcycle order. Just say the words.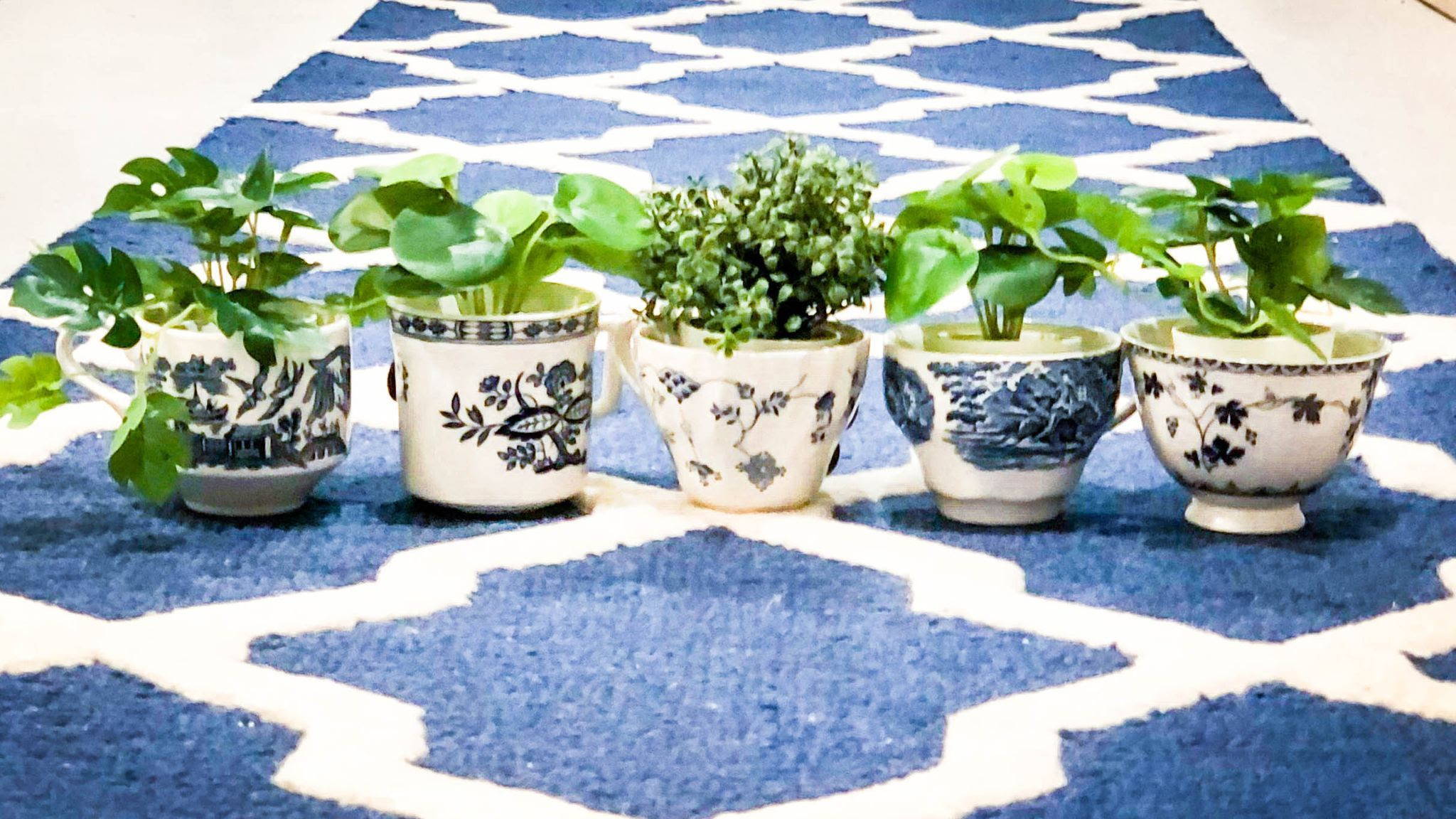 If you don't feel like getting your hands dirty or drilling any holes, faux plants work just as well in teacups and can be very convincing substitutes for the real thing. These are a few from my workshop where real plants are impossible due to lack of natural light (and, if we're being honest, a lack of desire on my end to actually maintain them).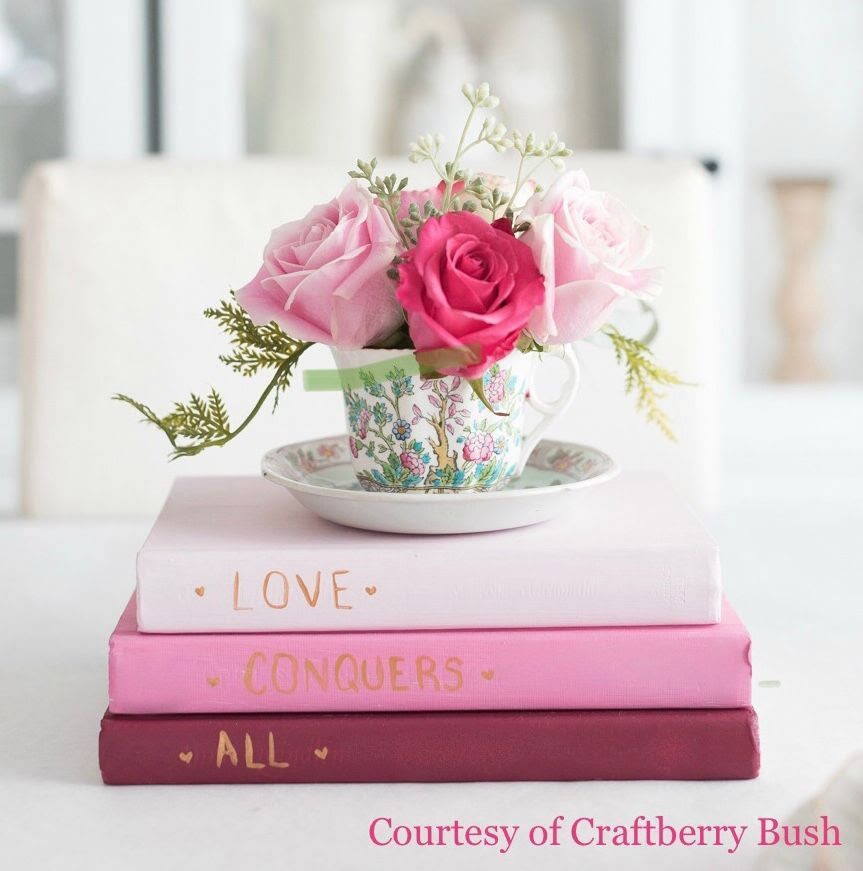 Teacup Vase - Arrange cut flowers flowers and cover empty spaces with preserved moss. Easy peas-y. Photo courtesy of Craftberry Bush 
I couldn't not mention teacup vases! Like the teacup planter, the teacup vase is an adorable and even more versatile way to use your teacups because there's no drilling required and you can reuse them as teacups. Teacup vases also make wonderful party favors. Use them as floral decor for any gathering and then encourage guests take the flowers home with them.
---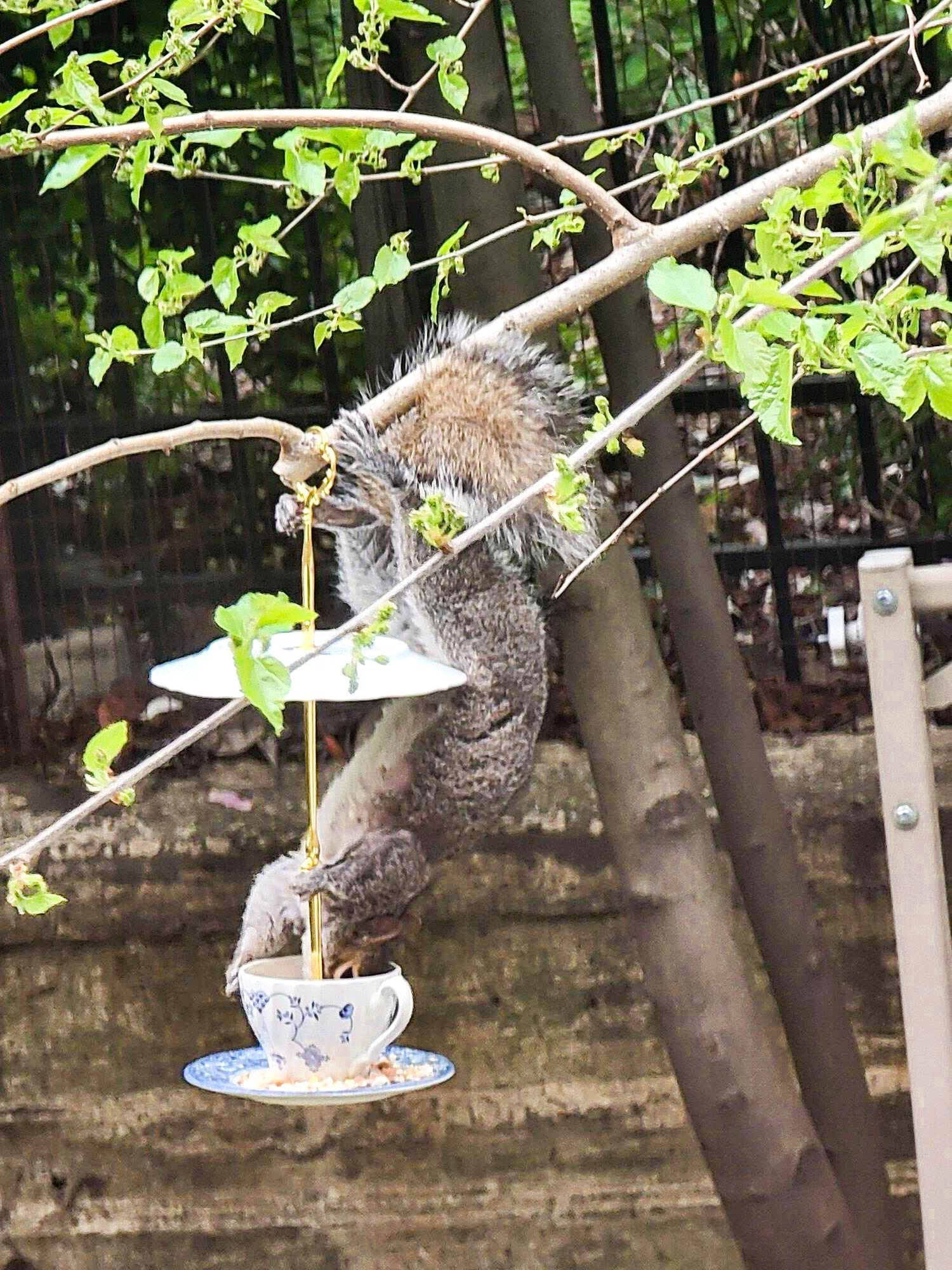 Too impressed to be angry at the squirrel.
We hung our second teacup feeder up high on a branch in our yard and it was a HUGE hit… with the squirrels. As it turns out, squirrels will basically do backflips and risk life and limb to dine from vintage teacups. Who knew?
I asked my IG friends for some advice and those far wiser than I suggested greasing the poles with coconut oil and adding seed blends that contain hot pepper. Apparently the squirrels can't stand it but the birds don't mind. If you've tried either of these strategies, let me know. I currently have the coconut oil on standby!
This is all to say that our bestselling mismatched blue and white china now comes in Teacup Bird Feeder form and is officially available in the shop. I can certainly create bird feeders using your vintage china too… I just can't guarantee the squirrels won't get to it.
---

If you still need a last minute gift, The Brooklyn Teacup is here for you.
Local friends: You can shop on the website or make an appointment to stop by in person to pick up your gift. Want to make your piece truly one of a kind? I'll bring the plates and you can design your own tiered stand or teacup bird feeder right on my stoop.
You can also make an appointment to shop virtually by Zoom, or even message me on Instagram @TheBrooklynTeacup. Swing by afterwards to pick up your order or request Free Shipping. With just a few days until Mother's Day, don't delay!
---
Enjoy the rest of your week and I'll be back soon with more inspiration for putting the good china to good use.
---