Society gives us mixed messages about imperfections. On the one hand, they are what make us unique and interesting. Our flaws and broken bits tell the story of where we've been, remind us of our strength and shape who we are.
At the same time, the marketing for basically every product we've ever been sold revolves around minimizing imperfections and the things that make us different. Newness is prized; "curves and edges," John Legend's gorgeous crooning aside, depreciate a product's value.
Nowhere is this sad reality more true than the land of vintage dinnerware. If you frequent antique stores and estate sales as I do on my many sourcing expeditions, you'd know that just a silly scrape or stain on a plate or the inside of a teacup can render a piece virtually worthless. Despite being completely functional and structurally intact, chipped plates and crazed teacups often cause people to start looking to toss the family china into the trash.
I don't know about you, but this completely bums me out—and garbage or bust are not the only options! If you've been reading my emails for a while, you know that upcycling is always my preferred alternative. Here are a few of my favorite ideas for keeping pre-loved and less than perfect family heirlooms in the family in practical, meaningful and aesthetic ways.
---
Top 4 Favorite DIY Upcycling Projects
The below suggestions are what I would consider the low-hanging fruit of upcycling vintage china—relatively quick and easy wins for those plates and teacups that might be past their prime, but still have love and beauty to give.
They are:
Plate walls
Teacup flower pots & planters
Mosaic crafts
Bird feeders
If you're looking for more inspiration, I invite you to peruse my DIY Upcycled China Inspiration Pinterest Board. For the record, I have not tried the majority of those ideas but aspire to… perhaps one day.
Plate walls allow you to get maximum enjoyment out of your china—because you can always see it, and no handwashing is involved!
Plate walls are an elegant, eco-friendly and often affordable way to brighten up just about any space. They're also a great for putting your imperfect china plates to good use—just hang the flawed pieces (using plate hangers) where they're not at eye level and no one will ever notice the little nick, stain or crack. Every plate on this wall above our fireplace has some sort of issue, but I bet you'd never guess!
---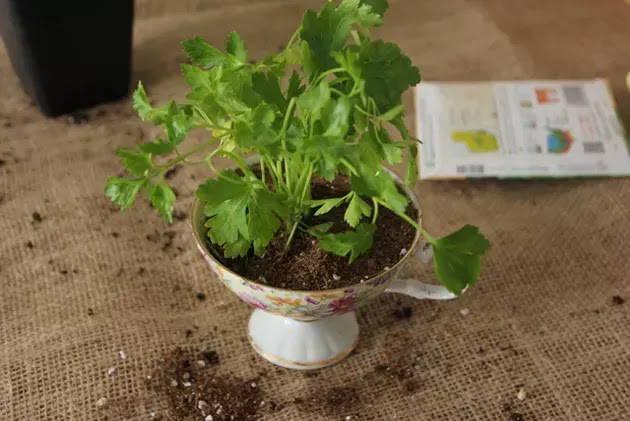 So the inside of your teacup is yucky, despite cleaning it out with baking soda and white vinegar, or there's a chip on the rim of the cup that makes it no longer safe to sip. What do you do? Easy! Drill one hole through the base of the cup for drainage, add some potting mix and seeds and now it's the ideal mini vessel for growing everything from herbs and succulents to flowers.
Unlike some plates, the bottom of teacups tend to be thin. As a result, it's usually pretty easy to drill through teacups using just a hand drill and diamond drill bit. I love the teacup planter because it's so versatile and adorable and makes for the loveliest decor and party favor for events from bridal shower to birthdays.
---
3. Mosaic Projects & Crafts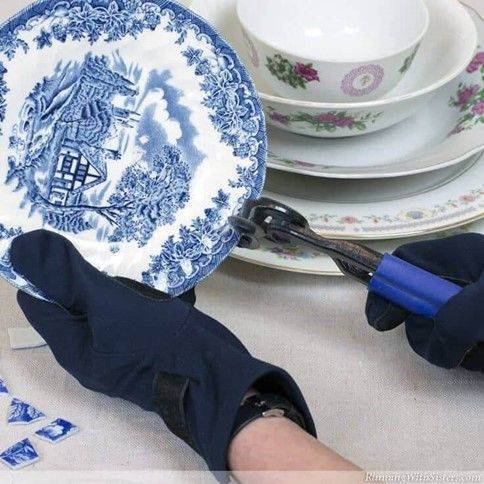 I have gotten great feedback from customers I have referred to this brief Mosaic Tutorial by Running with Sisters. If you have your heart set on turning your vintage china into mosaic decor, this is definitely worth checking out.
If you're looking for a project, working with mosaics made from broken pieces of your favorite china patterns can be a lot of fun and really rewarding—
or so I've heard.
I confess that while I enjoy using tile nippers to break the china around pieces of the plates and patterns I find interesting, the part where you're supposed to arrange the tiles and adhere them permanently to a surface intimidates me 😂. Personally, I like to arrange the broken pieces in a clear glass jar and call it a day. Or, smooth out the edges, usually on my sidewalk, add a magnet with hot glue and stick pretty pieces on metal surfaces around my workshop.
And yet, I must mention these other ideas for using broken bits because I know how much others enjoy creating objects like trivets, planters, picture frames, and tabletops, which all lend themselves well to mosaic application.
---
4. Bird Feeders (Sneak Peek!)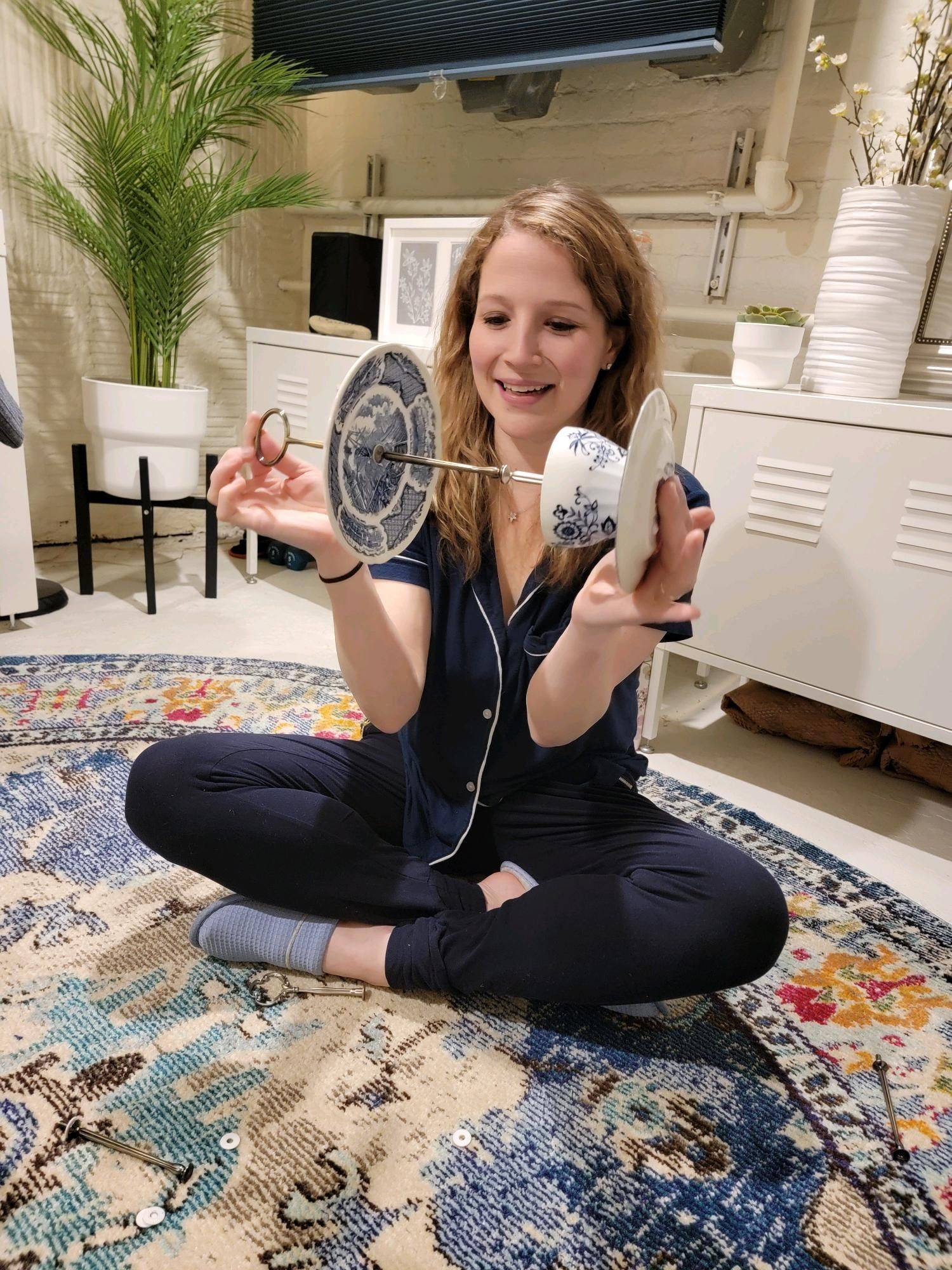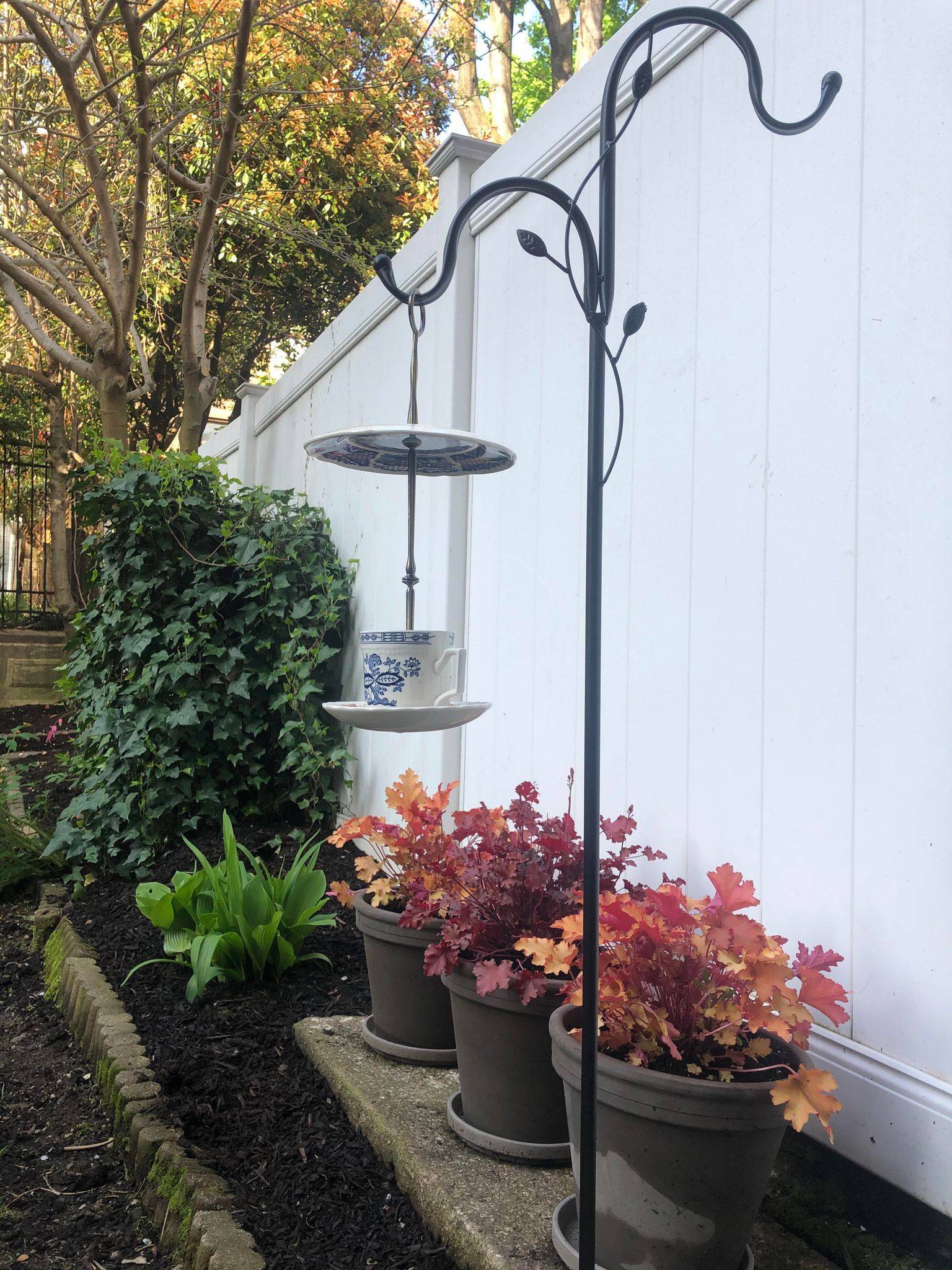 Left: In my PJs late on a COVID Saturday night in, moments after discovering I could make a bird feeder by just rearranging the same china and hardware I use in tiered stands. Right: A bird feeder in action in our yard.
Guess who doesn't care if there is a stain in your teacup or a scrape on your saucer? Birds! At least not the ones in Brooklyn—as far as I know 😉.These adorable teacup feeders have not officially made it to the shop, BUT I had to share because they are my new favorite things to make, especially when I get to use the imperfect china I don't otherwise sell.
How did bird feeders come about, you ask? Well, like many during the pandemic, Justin and I (but mostly Justin) became extra interested in birds. As it turns out, in our postage stamp-size yard in Park Slope, we get to observe an amazing diversity of species. Over the past few weeks, we've been doing all sorts of things to get the yard into shape to (finally!) have human guests. As Justin and I considered how we might also make the environment more hospitable to our feathered friends, the idea occurred to us to fashion a feeder using vintage china from my pile of less than perfect collection. With a few ideas from Pinterest, this is what we came up with.
Options will soon be posted on the site. Depending on how things go, I might offer this option alongside our other upcycle options. In other words, we can create bird feeders using your own vintage pieces! Just send a teacup, saucer and dessert plate or bowl and we'll take care of the rest.
---
Shop Imperfect Blue & White China
I recognize not everyone has piles of pretty china to pick from just lying around for their plate walls and upcycle projects. Because the pieces I have are not in excellent vintage condition as is standard for the items on our website and each one is flawed in unique ways, I do not list them.
If you'd like to shop our less than perfect plates and cups at a significant discount (50% or more depending on the flaw) or pick mosaics for your next crafts project, these are your options:
Stoop side shopping - Come visit us in Park Slope!
Peruse the pieces and take 50% off (or more, depending on the level of damage) plates, bowls, teacups and more.
Pick your favorite mosaic tiles, free with purchase over $100 or by the pound.
Zoom Shopping
Meet me on Zoom and I can show you our imperfect options and point out the imperfections so you know what you'll be receiving before making a commitment. We can ship or you can pick up.
LIMITED QUANTITIES AVAILABLE on a first come first served basis.
---
PSA: Mother's Day is Legit Around the Corner.....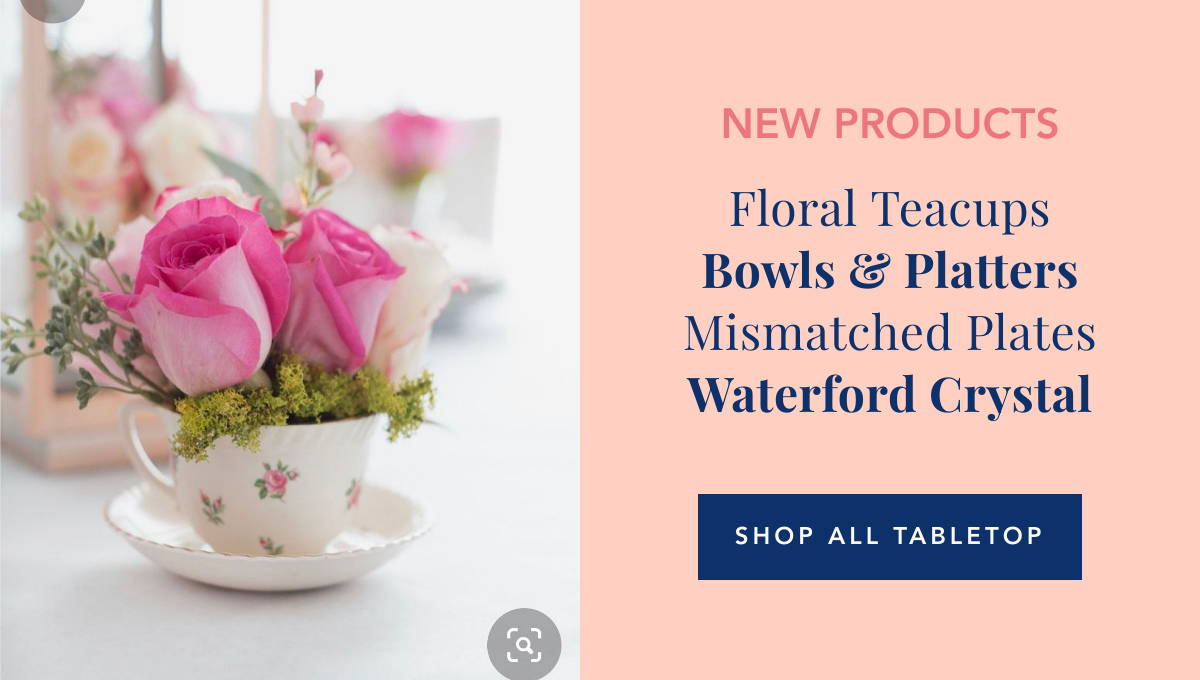 It's hard to believe but it will be MAY this weekend, which means that Mother's Day is literally around the corner. For guaranteed shipping on any of our ready-made products by Mother's Day (5/9), be sure to order by this Sunday 5/2. If you end up doing a DIY a craft with your vintage china, please share—I'd love to see it!
Feel free to share your thoughts in the comments about the new imperfect china shopping options, and if you have any favorite crafting projects with broken china that I didn't include here. Lastly, if there's a product you'd like to see in the shop or an option you'd like to see added to The Brooklyn Teacup's upcycling menu, give me a shout. I love cooking up new ways to put the good china to good use!
---