I had planned on one final post in our Perfectly Imperfect series on ideas for upcycling your vintage china, involving broken china mosaic crafts. Thanks to a special early delivery of highly-anticipated supplies, and it being Mother's Day tomorrow, I decided to announce something entirely new instead. (Don't worry, we will circle back to mosaics, but it can wait another week!)
---
Introducing: Pendant Necklaces!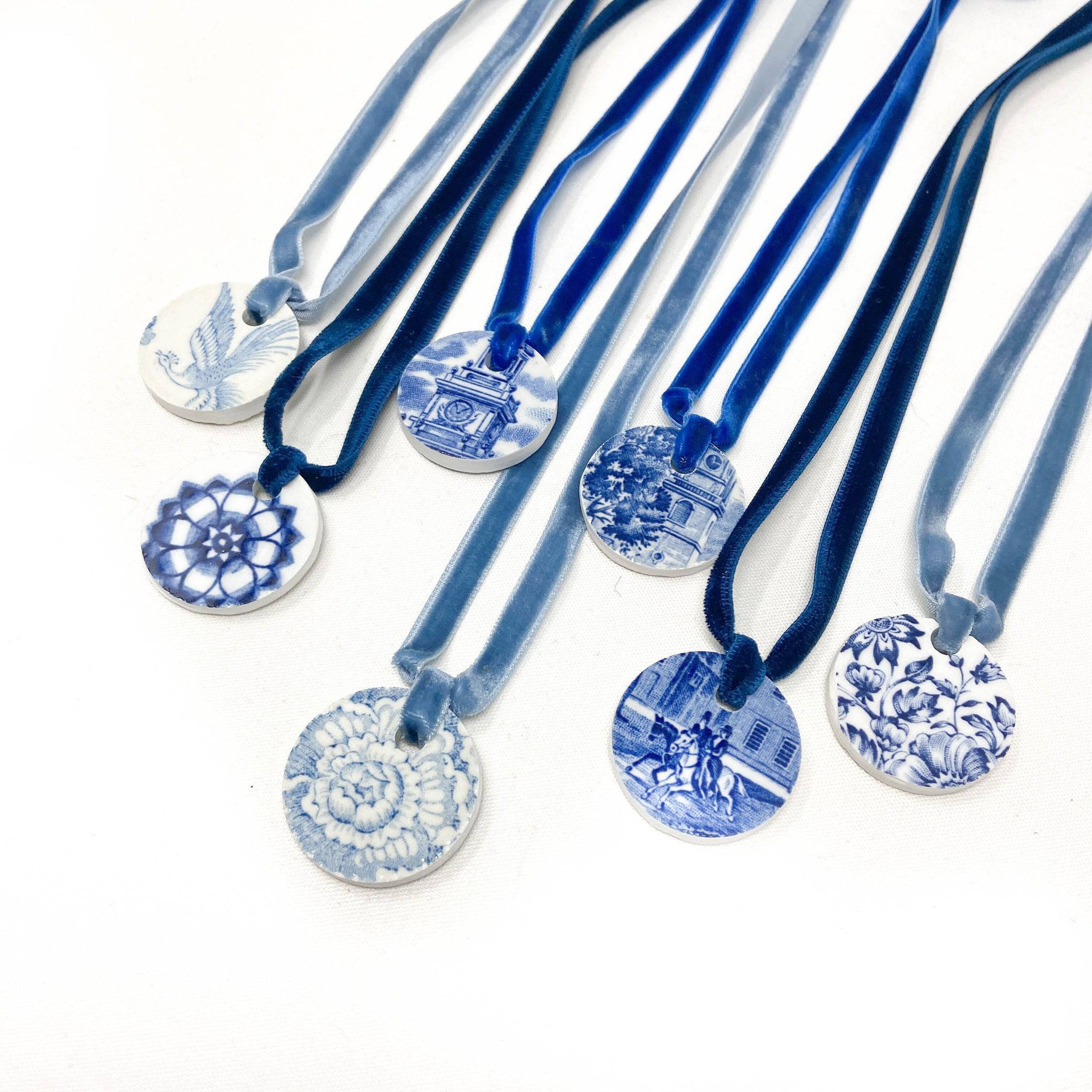 As it turns out, there's another wonderful thing you can do with vintage china you no longer use… Wear it! I first got the idea to make pendant necklaces a few months ago when I set out to make a batch of mosaic tiles out of a pile of plates that were too damaged to sell, but too lovely to throw away.
As I was chipping away at the plates with my tile nippers, I wished there was some way to preserve the parts of the patterns I loved instead of letting them break apart. So, I tried something pretty straightforward: I drilled out the parts of the pattern I liked best using a much larger drill bit. With a lot of practice, I got good at making and sanding them and I'm pretty much in love. I will share more behind the scenes photos in our next blog post!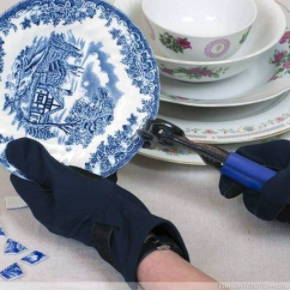 Right now we're only offering these in Blue & White—but keep an eye out because we'll soon be offering to make pendants with our regular upcycle orders so you can make necklaces out of mom or grandma's china and have truly one of a kind keepsakes.
---
Tell Everyone (And Their Mother) about BTC!
With Mother's Day tomorrow—and because I love wordplay—we've decided to launch the "Tell Everyone (and Their Mother)" promotion. As a small business, we rely on our customers to get the word out. In addition to receiving our everlasting gratitude, I've decided to sweeten the deal—we're giving away one of our new pendant necklaces for every client referral until Memorial Day!
So, if you've been thinking about buying something from BTC but haven't placed your first order yet, now is the best time to do it!
If you refer a friend or family member to The Brooklyn Teacup and they make a purchase before Memorial Day (5/31), we'll send you a BRAND NEW pendant necklace on us (a $75 value).
And, the more you share, the better: We'll give you a free custom pendant necklace made from beautiful blue and white vintage china for each person you refer who makes a purchase before Memorial Day.
How it works:
1. Make your first purchase from BTC (if you haven't already!)
2. Refer a friend or family member
3. Your friend makes any purchase on our website
4. At checkout, they put YOUR NAME in the NOTES
5. We'll ship your pendant to the address we have on file from your previous order.
Don't worry, your friends will get a treat too—if they sign up for our email list, they'll receive a code for a free ring dish (a $49 value).
Tips for Spreading the Word

Here are a few easy ways to share the love (and win a one-of-a-kind necklace):
Forward our emails to a friend!
Snap a picture of your upcycled china and post it on Facebook with a link to our website
Share any of our Instagram posts in your stories and tag us @thebrooklynteacup
Text/email a friend with the link to our feature on NBC and share a bit about why you think they'd like BTC products or our upcycling service as much as you do!
Thank you for supporting our work. We couldn't do this without you!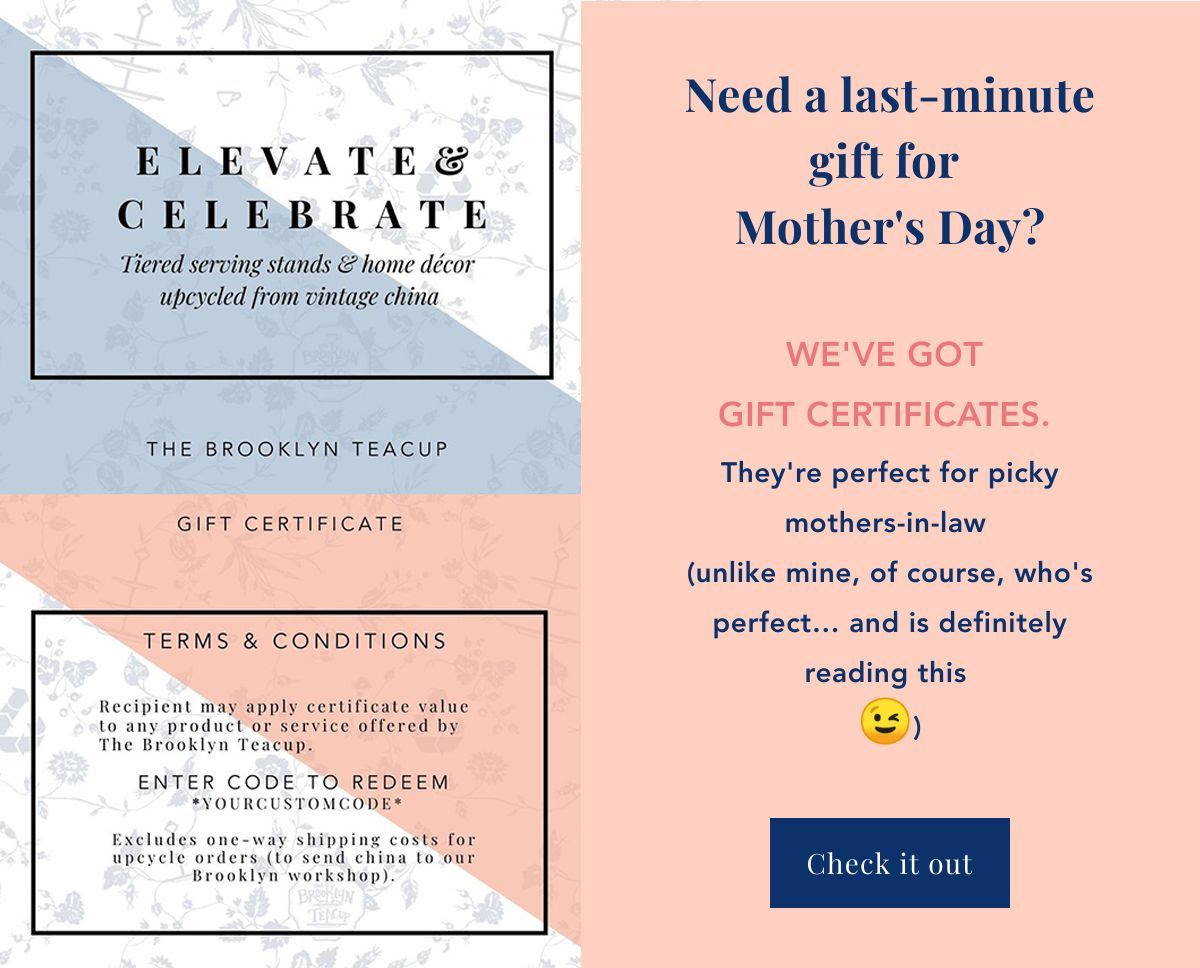 ---
Happy Mother's Day to you and all of the mothers and mother figures in your life!