So, the coolest thing EVER happened a few weeks ago. Drumrollllll.....The Brooklyn Teacup was featured in MARTHA STEWART! I can literally take zero credit for this amazing news—but am very psyched nonetheless.  
How did it happen? Well, The Brooklyn Teacup has been working with the brilliant Elisa Marshall, owner of the charming French bakery and café chain known as Maman. One of Maman's signatures is that they serve all of their delicious baked goods and gourmet dishes on antique blue-and-white china.
...Long story short, Elisa had us make tiered cake stands using the café's own dishes to complement their unique aesthetic, their team produced this stunning Mother's Day feature for Martha Stewart, gave us a little mention...and The Brooklyn Teacup was included! 
Elisa wrote,
"The desserts will be served on a beautiful tiered stand I had made by The Brooklyn Teacup. They make unique tiered stands with family heirlooms and plates you supply. (And they all unscrew to make storage simple)."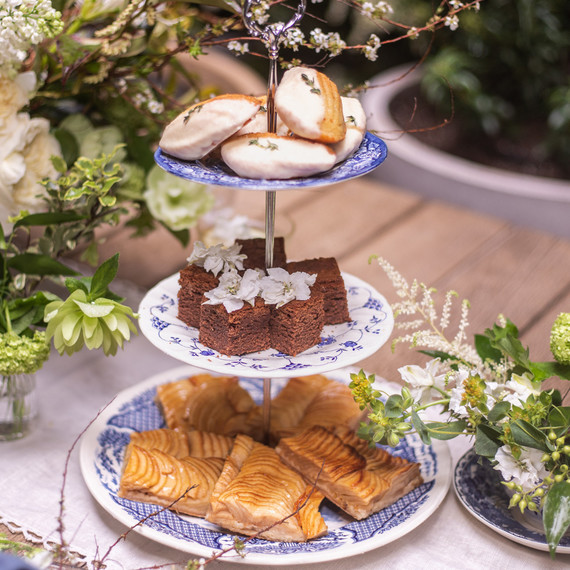 How cool!!! In truth, I don't know who was more excited, me or my mom, to learn that something I made had actually been acknowledged in a Martha Stewart publication. I mean, Martha Stewart was basically an idol in our household.
Growing up, my mom proudly consulted Martha for everything from Halloween costumes to school projects—like the ginger bread house with actual sugar stained glass windows that my 4th grade teachers knew I obviously didn't make—to crafty party favors and holiday menu items.
Anyway, if you are interested in turning your fine china into tiered serving pieces, visit The Brooklyn Teacup website or email us at thebrooklynteacup@gmail.com for more info.
Credit: photo credit @_byelisa_  florals by @picsandpetals