Believe me, I get it. You don't have space, you never use it, it's too formal, not your style... but you can't bring yourself to get rid of it. Your siblings and cousins don't want it either, and all of a sudden, you've become the keeper of the family heirlooms belonging to your great-grandmother dating back to the 1800s. AH! The pressure—the sense of responsibility!
The whole reason you agreed to hang on to the dishware that's incompatible with your lifestyle is your sentimental connection to it. You want to hang on to those happy memories of ladling matzo balls from those beautiful ornate soup bowls back when grandma used to host family Seders.  But that huge set of china is taking up space you don't have and not actually getting any use.
You contemplate biting the bullet and Marie Kondo-ing it all...but just the very idea of giving away grandma's precious antique china leaves you feeling deeply guilty.
So what's a sentimental, space-limited urban dweller to do?
As it turns out, you're not actually stuck with a cabinet full of china that's destined to collect dust for eternity… or until you have some kids yourself and torment the next generation with a boatload of unwanted crockery. (Side note: how great is the word "crockery"?) You have a few options. Some are included in the Washington Post's article that featured the Brooklyn Teacup!! titled Five Fresh Ideas for the family china nobody wants and the follow up article More ways to deal with your family china.
I think these are the best ones:
Option 1: Make your fancy china your everyday dishes
The first and somewhat obvious option is to just start using the dishes as you would your everyday dishes. Sure, they may be a little formal, but so what? There's no rule about not being able to eat on fancy china in your athleisure wear. Obviously, if the dishes have gold or platinum edging, you can't put those in the microwave.  But I give you full permission to put them in the dishwasher…. what's the worst that could happen?
Option 2: Make wall art out of your dishes!
I really love this idea, especially if the family dishes are in anyway interesting in color, pattern or shape and/or complement your existing decor. Re-purposing vintage dishes into wall art not only keeps your loved one's memory ever-present, but also makes for a super thrifty interior decorating solution.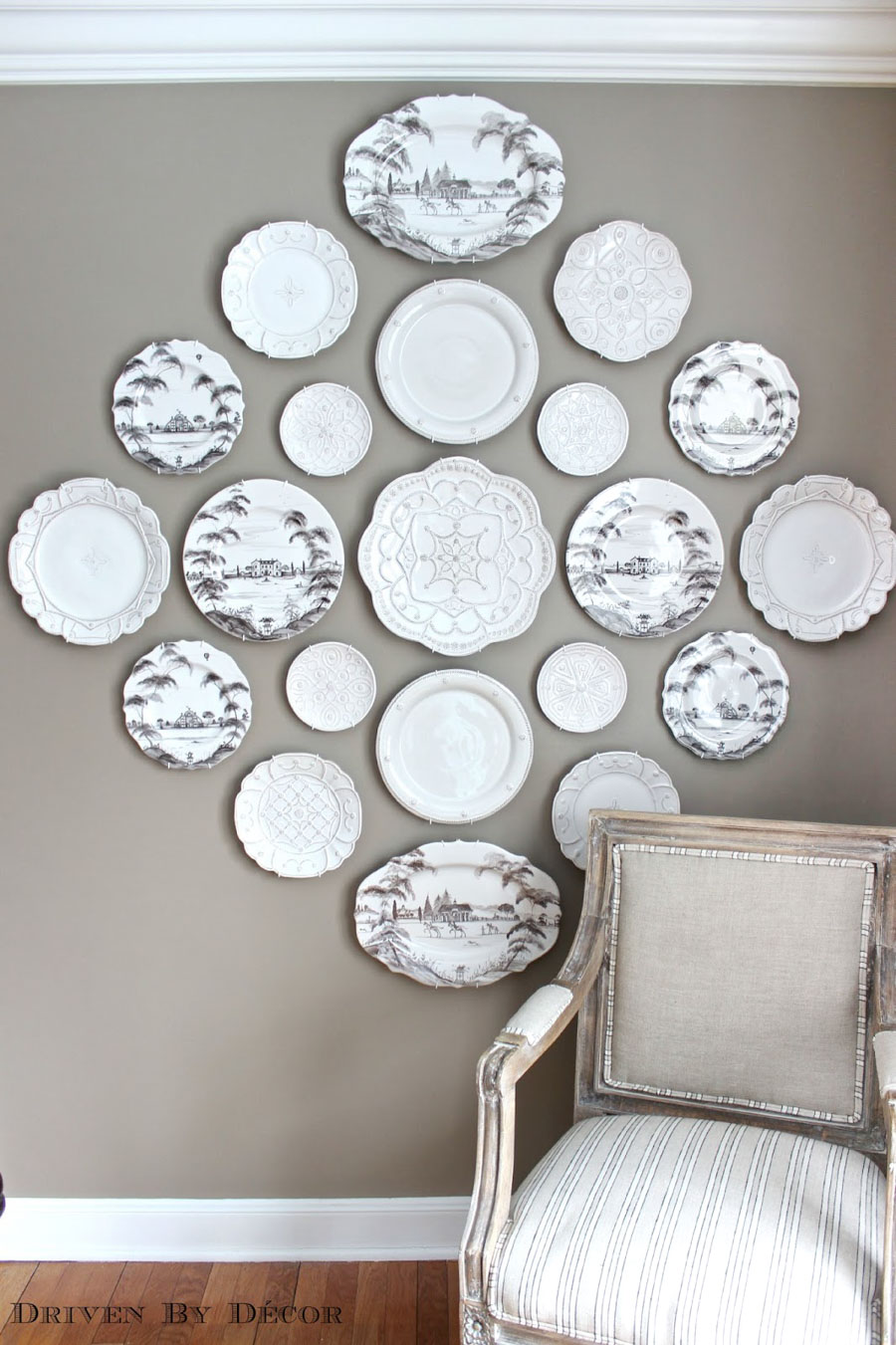 Before breaking out the hammer and nails, I highly, highly recommend reading Driven by Decor's tips and step-by-step guidance for turning your dishes into wall art. She has a number of tips for finding the right plate hardware, arranging the plates, measuring, hanging, etc. You don't want to end up with a million holes in your wall. 
Option 3: Upcycle your china!
Your third and, in my opinion, best option is to upcycle the china. Kind of like recycling, but better, upcycling is the process of converting, transforming or reinventing old or discarded items into things of higher quality or value. I have a whole collection of DIY upcycling projects you can try your hand at on my Pinterest board... but, if the idea of drilling through delicate fine china is too intimidating, you may be in luck. (I say "may be" because you either need to live in/near NYC OR be confident enough to ship your china to us).
At the Brooklyn Teacup, we speciaize in upcycling vintage china.  We'd love nothing more than to help you turn your grandma's dishware collection (or any favorite plates, teacups, bowls, etc) into elegant tiered serving pieces and decor that are as practical as they are sentimental.
How it works: You choose the sizes you want to create and pick the hardware. We return the pieces to you so you're ready to entertain (hello, tea party-themed birthdays, bridal showers, baby showers!) or to give out as gifts. Learn more about upcycling your china. 
What I Did with My Granny's Fine China
For my Granny's 100th birthday celebration, I decided to do something big with her fine china. At the time it sat in my cousin's cupboard, still wrapped in what had become yellowed newspaper from the last time Granny used the pieces over a decade ago.  With my Granny's enthusiastic endorsement, I converted every last dish (over 70 pieces!) into different tiered stand configurations.
Pictured here – Granny, her partner/gentleman-friend, my hubby and me, with a 2-Tier serving stand made from her fine china (given to her as wedding gift in 1940).
At the party, we used several of the 3-Tier stands at the buffet and dessert tables, and 2-Tier stands for passed hors d'ouevres and appetizers. And my favorite thing was turning the smaller dessert bowls, saucers and teacups into assorted candy dishes, nut bowls, trinket trays and accessory stands that guests could take home with them.
This party favor was a perfect keepsake for Granny's milestone birthday because it's such a symbol of her legacy. In her prime, Granny was quite the balaboosta, a Yiddish term which roughly translates into a superlative housewife and matriarch. Not only did she always have a table set with delicious and beautifully prepared food, but Granny always created an environment where those who gathered felt welcomed and loved.
Let's just say that the party favor was a hit. In the days and weeks following the event, I received countless texts and emails with pictures of our family and friends using and displaying their stands.
Of course, I also saved a few pieces for Granny—including this little teacup & saucer stand, which now has a permanent spot on her table. At nearly 101, Granny still makes sure it's fully loaded with treats and nibbles for her many friends and visitors.
In summary—you don't need to hang on to a huge set of china you don't use to preserve fond family memories. The Brooklyn Teacup is here to help you upcycle some choice pieces… and donate the rest.