Got questions? We're happy to help!
---
We define "upcycling" as the process of converting, transforming or reinventing an otherwise old or discarded item into something of higher quality or value. Kind of like recycling, but better!
What do you charge to upcycle my china?
We charge a flat fee of $30 to (delicately, lovingly) drill through each piece of china you supply.
This includes the hardware and return shipping for the configuration you have selected. It does NOT include the cost for shipping your china to The Brooklyn Teacup's workshop.
Can you do anything with odds-and-ends pieces from my china set?
Yes! We are often able to incorporate your most seldom used vintage pieces into delightful and intriguing tiered stands. When in doubt, send us a picture—We love finding ways to use your sugar bowls, creamers and even gravy boats!
If you'd prefer to donate these pieces instead, we're happy to help. We regularly donate all of the china we do not use to Big Reuse, an environmental nonprofit based in Gowanus, Brooklyn dedicated to combating climate change.
What if one of my pieces breaks in the drilling process?
Given the fragile and sometimes temperamental nature of vintage china, pieces may break during the drilling process. It makes us sad...but these things happen!
To make sure you walk away with a tiered stand in your desired configuration, we strongly recommend that you bring extra china. We recommend at least one extra piece per tier in your order; don't worry, we'll help you make a list of what to prepare during your consultation.
Please do not give us anything you feel is truly irreplaceable for sentimental or monetary reasons.
What do you do with my extra china?
If we do not end up needing to use the extra china we ask you to include in your upcycle order, we keep it on hand for 3 weeks following shipment. In the rare case that something breaks in transit, we have an extra piece or two on hand to replace it.
After that period, we either donate your unused china to our friends at the environmental nonprofit, Big Reuse, or upcycle it for our own purposes.
Curbside Upcycling Service
How is it "social-distancing" approved if we're meeting up in person? 
You can leave your china in a box on the curb in front of the workshop, and then I will retrieve it a few minutes later (wearing a protective mask, of course).
How long does it take to complete a curbside order?

It generally take 20 minutes to create one 3-tier stand (3 pieces of china). Estimate your wait time according to how many pieces you plan to bring. The workshop is situated in a lively neighborhood in Park Slope, Brooklyn. I encourage you to explore the neighborhood while I upcycle your china.
I will email, text or call you when your order is ready and you can return to pick it up.
How to Pack Your China for Mail-In Upcycling
Wrap each plate, bowl, cup or saucer individually in bubble wrap, foam (or an eco-friendly alternative like green wrap or corrugated cardboard).
Secure pieces of the same size together in bundles with tape.
Use extra padding around delicate handles as these are the first things to break when jostled.
*If at all possible, please include at least one extra set of china with your order in case something happens during shipping or drilling. It's easier to have a backup already on hand than the alternative.
**If you are nervous to package your china for shipping, you can always go to your local UPS/Fedex/Post Office and ask a shipping expert to pack your china for you.
Place heavier items in the bottom of the box.
If deciding whether to get the bigger box versus two smaller ones, remember that the larger the box, the higher the rate of breakage due to shifting or overloading. (You can still ship in larger boxes but you may want to consider double-boxing by placing one box within another and packing it with at least one inch of padding on all exposed sides/edges).
Before sealing your box(es), pad the top and sides as much as possible to prevent air pockets and letting items touch the sides.
Do a test shake - If the contents of the box move around, add more padding!
Seal the box with with packing tape.
Mark your box(es) with the word "FRAGILE" and label the outside with the total number of boxes in your shipment (i.e., #1 of 3, #2 of 3, etc.).
Enclose a packing list for each box and take a picture for your records.
How much does shipping cost? What is the estimated shipping time?
Domestic:
We offer free standard shipping to all domestic addresses through USPS, UPS and FedEx from our workshop, located in Brooklyn, NY.
Ready-made pieces typically arrive within 1 week placing your order.
Mail-In/Custom upcycle orders typically ship back out within 1-2 weeks upon receipt of your china, depending upon the size of the order.
Curbside upcycle from our Brooklyn workshop are made while you wait. Allow ~20 minutes for each 3-Tier stand.
Need your order in a rush?
Select the expedited shipping rate at checkout and we'll do everything in our power to get your order to you ASAP.
Additional fee of $30 will be applied for expedited orders
Do you ship internationally?
We offer international shipping to the following countries using USPS First-Class Package International Service and DHL carrier rates, whichever is lowest (because no one likes to pay more for shipping)! Cost of postage depends on weight and order value
Our products generally fall into two weight groups: under 2lb and above 2lbs. As a rule of thumb, smaller pieces like ring dishes and Teacup & Saucer stands typically weigh less than 2lbs; 2 & 3-Tier stands and similar size pieces generally weigh over 2 lbs.
Shipping country

Shipping fees

Delivery speed

Canada

Calculated by weight

Free shipping on orders over $350

5-10 business days

U.K., France, Germany, Italy & Spain

Calculated by weight

Free shipping on orders over $400

7-10 business days

Australia & New Zealand

Calculated by weight

Free shipping on orders over $500

10-15 business days

Japan

Calculated by weight

Free shipping on orders over $500

10-15 business days
Customs Fees:
Depending on your country, additional customs charges, fees or taxes may be due when you receive your package. You are responsible for these fees and are not included in item and shipping price.
How do I know if my order has shipped?
We will send you an email confirmation with a tracking number just as soon as your package has shipped! Should you have questions before then, just shoot us an email at thebrooklynteacup@gmail.com and we'll reply as soon as possible.
How do I assemble my stand?
It's easy and intuitive to assemble your tiered stand. Your piece will come with its own instruction card based on the type of hardware selected.
Here are the instructions for the 3-Tier Stand as a reference: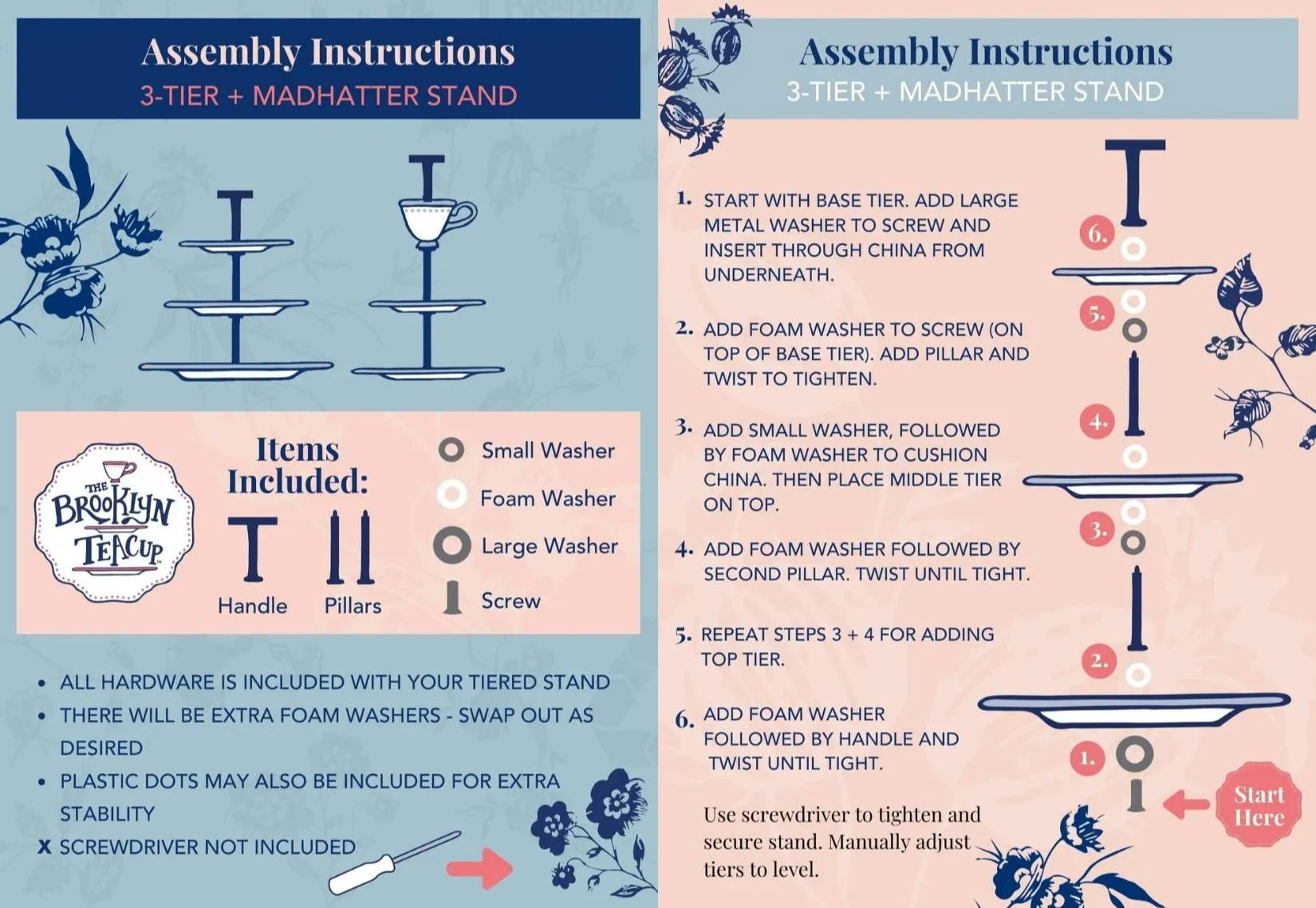 The easiest way to clean your tiered stand is to wipe it down with a warm damp cloth. If the tiers require a more thorough cleaning, the stand can be easily disassembled so that each piece can be washed using soap and water.
Wipe down thoroughly, especially the exposed ceramic in the area where the hole as been drilled and let air dry before putting away.
Confession: We wash our own sturdier pieces of china in the dishwasher on a light/gentle setting (after disassembling, of course). We use a mild dishwasher detergent (nothing with bleach or lemon which could erode the glaze over time). However, if you want your vintage plates to remain in tip top shape, we officially advise against using the dishwasher. Proceed with caution!
For expert china care advice, check out this Southern Living article.
When not in use, we recommend disassembling your stand and stacking the plates on top of one another from largest to smallest. Separate each tier with paper, foam/bubble wrap or cardboard to avoid scratching.
Pro tip: To avoid misplacing your metal and foam washers, load them all on to the screw and tighten the screw on to one of the metal rods.
Can I put my stand in the oven or microwave?
Never put your stand directly in the oven or microwave! The hardware is made of metal. If you are heating up anything to present on your stand, do so separately before "plating" it for presentation.
What are those plastic dots included with my package?
Depending on the china pattern, adhesive bumpers, which look like small clear plastic dots, may be included in your order or applied to the bottom tier of your stand in order to prevent wobbling.
If your stand has bumpers on the bottom, refrain from putting it in the dishwasher.
Do you accept returns or exchanges?
The Brooklyn Teacup accepts exchanges for ready made-items only.
On the off chance that you are not happy with your piece and/or find damage that may have occurred in transit, please send pictures to thebrooklynteacup@gmail.com and we'll be happy to help you select a comparable piece.
Our goal is ensure that you are thrilled with your upcycled purchase so don't hesistate to reach out.
Where do you get your china?
We purchase or otherwise acquire our inventory from a variety of sources. In general, we buy from estate sales, flea markets, second hand stores, garage sales and individual sellers all over New York City, state and beyond.
What is the condition of your vintage china ?
All of our inventory is in good pre-loved condition or better. This means that some plates may show signs of wear, including light surface crazing, scratches, utensil marks and/or fading to the gilding and trim. It's all part of their charm!
That being said, your pieces should not have any chips, cracks or stains that might affect the overall beauty of the piece.
What should I do with unwanted china?
Where can I donate china that I don't want?
Below are a number of other organizations that welcome fine china donations. Some even offer pick up services that are free of charge.
Contact your local chapter or visit their web pages (below) for more information.
Can I recycle fine china?
The short answer is no.
Unfortunately, ceramic or porcelain items cannot be recycled at most facilities. If your dishes, teacups, or other pieces of china are broken, chipped, cracked or stained, they should be thrown in the garbage. Any any sharp edges should be covered over with paper and placed in a bag before going into your trash bag.
Where can I sell my china?