photo c/o Curated Interior
Blue and white china's enduring popularity in dinnerware and home decor can be attributed to its timeless appeal and incredible versatility. These pieces effortlessly transition from casual meals to elegant dinner parties. 
Blue and white transferware owes its name to the method by which the design is applied to ceramic.  It comes in myriad shades, patterns, and designs and is beloved by people with diverse aesthetic preferences, from modern to grandmillennial and traditional.
If you're enchanted by the country chic, modern farmhouse look often featured on social media and in magazines, you might be eager to incorporate blue and white china into your decor.
Here are four tips we've gathered from our own experiences and in working with industry pros, from interior designers and home buyers to event planners and food stylists. Experiment with these suggestions to craft a fresh, eclectic, and timeless look you'll enjoy for years to come.
Tip #1: Embrace the mismatch: mix and match blue and white china patterns
While an all-matching blue and white china set you fall in love with might seem tempting, there's a world of creative possibilities waiting for you when you mix and match vintage patterns and designs. To achieve a look that's both eclectic and cohesive, consider these recommendations:
Consider your contrast colors:
To create a well-balanced and defined table setting, start by setting a couple of boundaries, like identifying a singular shade or tone that will tie the other colors in your setting together. 
There are no hard and fast rules: which pieces you like paired together comes down to personal preference. Luckily, because blue and white china is so forgiving, it's hard to go too wrong. For your reference, check out this video to see us quickly pair many different blue and white china patterns together–notice how well they all work together.
That said, since there are so many shades of blue in the blue and white transferware world, we like to select patterns with consistent white undertones (versus trying to also blend in patterns with ivory, tan, and beige). We find this allows us to showcase the eclectic charm of our pairings without over-saturating or muddying the aesthetic.
Balance colors, shades & tones:
Achieve visual balance and interest in your eclectic place setting by incorporating various tones and shades of blue and white. To create a dynamic and visually appealing table, we love pairing pieces with a good amount of contrast. For example, we typically pair a saturated and blue-dominant pattern with designs that feature more open white space. 
Below are just a few examples of blue and white china pattern pairings we adore and also regularly combine in our bestselling serving trays:
Burleigh's Calico & Johnson Bros.' Indies
Churchill's Blue Willow & Myott's Finlandia
Blue Nordic and Staffordshire's Liberty Blue
Incorporate distinctive patterns & designs:
Add visual interest by ensuring your assortment of blue and white dinnerware includes a diverse range of designs (in addition to varying blue tones and hues). For instance, pair a predominantly blue dinner plate that has a historical scene or motif alongside a predominantly white, Nordic-inspired design with symmetrical, geometric designs. Learn more about our classification for blue and white china patterns here.
As you may have noticed, we like to balance saturated, "busy" patterns like Burleigh's uber-floral calico pattern with simpler blue and white china patterns like Indies by Johnson Bros. that leave areas of unadorned space.

In the end, you have to trust your instincts. Experimenting with different combinations is the best way to figure out which patterns, designs and color combinations best complement your desired aesthetic.
Be consistent with materials:
Stick to similar dinnerware that's made from the same material and that has a similar weight and feel. Since stoneware like ironstone and earthenware dinnerware options are the most plentiful in the world of vintage transferware, your best bet is to stick with that. Don't worry, you can save any fine bone, pottery, porcelain, or gilded blue and white dinnerware a.k.a. "crockery" for other decorative purposes around your home!
Shop Blue & White China Collection 
Tip #2: Layer by adding dimension and height 
When it comes to creating any impressive "tablescape," it's always important to layer and add height and dimension. Constructing a tablescape that incorporates mismatching blue and white china is no different. One clever tip is to layer not only by adding plates and bowls at individual place settings, but also by incorporating height in blue and white–such as with tiered serving trays.

Not only can these be used to elegantly display any assortment of sweets and treats, but they can also showcase decorative elements like flowers and candles and tie together the blue and white look.  
Another way to add dimension and cohesiveness to your blue and white table is to temporarily repurpose items like blue and white teapots and coffee pots as vases. It's super easy to pull off this look, too: add floral arrangements to your vintage vessel of choice and enjoy the whimsical decor for any type of gathering. 
Tip #3: Incorporate other textures into your blue and white table
We love the dreamy way Elisa Marshall of mamannyc.com arranged her blue and white china tablescape for a mother's day brunch photoshoot. Picture by Leatal Cohen of Pic and Petal, featuring a blue and white 3-tier serving tray by The Brooklyn Teacup 
If you're aiming for a tabletop that isn't overly maximalist with blue and white but isn't too cold and austere, consider incorporating various textures. One way to do this is by using linens such as tablecloths, napkins, placements and table runners to give your table setting a fresh and unique look every time.
Also consider selecting glassware like crystal goblets or sleek champagne flutes to add levity and sparkle. Lastly, don't forget the impact of fresh flowers, like blue and white hydrangeas, in creating a crisp and refreshing ambiance.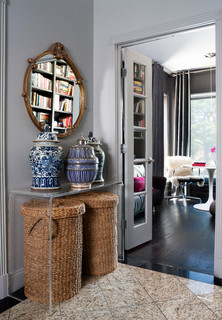 For home decor outside of the kitchen or dining room table, consider positioning blue and white pieces on a contemporary surface or alongside textured baskets.  Houzz writer Laura Gaskill advocates for placing blue and white ceramic pieces like ginger jars and vases atop a clear acrylic table. "Placing a few woven baskets beneath the [clear] table adds texture and balances the visual weight of the jars."
Katherine of Pender and Peony—a popular blog and antique shop geared toward grandmillennials—is a big fan of texture. In particular, she loves the "garden feel" of wicker next to blue hues because these materials help bring the outside in. Rattan, upholstery, printed curtains and other bold wall coverings also help create textures that complement a blue and white aesthetic.
Photo ℅ Beth Connolly, Interior Designer and Blogger at Chinoiserie Chic 
Tip #4: Transform your Space with Blue & White China Statement Pieces
Unsurprisingly, the timeless charm and versatility of blue and white china lends itself well to interior design in rooms outside of the kitchen and dining room. Incorporating these eye-catching elements adds sophistication and personality to your space. It also integrates well into various decor styles, from traditional to contemporary, which makes it a popular option for collectors and home decorators alike.
Here are just a few recommendations for using your favorite blue and white china patterns and pieces to infuse extra creativity and personality into your living spaces.
For more home decor inspiration & to shop our unique statement pieces,
check out our blue and white china collection.
Statement piece idea #1: blue & white china plate wall art

Transforming blue and white china plates into captivating wall art is a brilliant way to celebrate their beauty and uniqueness. Even if you come across plates with minor imperfections like crazing or chips on the bottom or edges, don't hesitate to repurpose and hang them up. With the help of simple plate wall hangers, these pieces will become eye-catching works of art, adding a fresh and distinctive vibe to your room and concealing any wear and tear.

When arranging your plate wall, maintaining a harmonious balance of colors and patterns, as we've emphasized in previous tips, is key. Consider grouping plates of varying sizes and styles to craft an intriguing and dynamic display. Pro tip: for seamless execution and a result you'll be proud of, take the time to lay out your plate arrangement before securing anything to your walls.
Statement piece idea #2: blue & white transferware teacup planters
Add a delightful touch to your window sill with an enchanting assortment of blue and white teacup planters. These planters not only make a statement with their timeless charm but also offer a unique and stylish way to showcase your favorite plants. Embrace the opportunity to plant succulents, herbs, or other easy-to-care-for greenery, and add extra calm and zen into your living space the way only nature can. Don't limit yourself to just teacups. Use gravy boats, soup bowls, tureens and sugar bowls too! 
Statement piece idea #3: unique blue & white china candles

Effortlessly elevate your home decor with unique scented candles in a range of beautiful vintage vessels. Check out our bestselling collection of blue and white teacup candles that can't help but draw attention and infuse any space with sustainable style and charm. 
A blue and white Wedgwood gravy boat candle with a matchbook sits on top of a tray in our Brooklyn, NY studio–a quirky, enchanting focal point for a small nook, bookshelf or console table.
If you're looking for something even more whimsical and perhaps a bit offbeat–be sure to check out our scented candles made in unique blue and white china vessels.  
Statement piece idea #4: well-placed blue & white ginger/temple jars
These ceramic jars, frequently adorned with intricate blue patterns on a white background, have a rich history dating back centuries. Originating from ancient Chinese culture, they were initially used for storing spices and precious commodities. Today, blue and white ginger jars serve as exquisite decorative pieces that effortlessly blend with various interior styles.

The combination of blue and white hues brings a sense of tranquility and harmony and helps create a soothing ambiance that fosters relaxation. Whether displayed on shelves or mantels or as centerpieces, these jars catch the eye with their striking visual appeal.
A teacup bird feeder, upcycled from blue and white china, hangs in the yard of The Brooklyn Teacup's Park Slope, Brooklyn studio. Features a Myott Finlandia teacup and Staffordshire Liberty Blue saucer.
A gray catbird is perched on the rim of the teacup.
Statement piece idea #5: blue & white teacup bird feeder
Bring a touch of whimsy and charm to your outdoor space with a bird feeder upcycled from a delightful blue and white teacup and saucer. These enchanting birdfeeders not only provide a pretty perch for your feathered friends to dine, but they serve as a captivating decorative element for any garden, balcony, yard or outdoor space.
Conclusion
When it comes to incorporating blue and white china into your home decor, there are nearly endless possibilities. The timeless charm and versatility of these vintage transferware pieces make them a perfect choice for adding warmth and interest to more modern, minimalist spaces, as well as texture and sophistication to more traditional interiors. 
I hope you feel excited to experiment with blue and white china and make your living space uniquely your own by mixing and matching patterns, layering with dimension and texture, and showcasing a few statement pieces. 
Last but not least, remember to trust your instincts and let your personality shine through in your decor selections. Part of the magic of mixing and matching blue and white china is that so much of it looks great together. It's super forgiving, so you can't mess up too badly. 😉 Happy decorating!!

For more inspiration, be sure to
browse our blue and white china collection.



Resources: